If you rely on a wheelchair for mobility, you'll know firsthand the importance of comfort and support. Over time, it becomes clear that not all wheelchair cushions are identical. Some excel in providing pressure relief, while others focus on ensuring stability and proper posture.
Perhaps you're searching for a new cushion and keen on finding the best. After extensive research and testing various options, here's a guide on the "Best Wheelchair Cushions" tailored to cater to different needs. Whether you prioritize durability, comfort, or a mix of both, this guide will steer you toward making an informed choice.
The 5 Best Wheelchair Cushions
The 7 Benefits Of Wheelchair Cushions
Wheelchair cushions are more than just a comfort accessory; they play a pivotal role in enhancing the overall experience of wheelchair users. The right cushion can make a difference, from health benefits to improved mobility experiences. Here are seven of the top benefits that underscore their importance
Pressure Relief: One of the primary benefits of wheelchair cushions is the prevention of pressure sores or ulcers. By evenly distributing the user's weight, these cushions reduce the risk of skin breakdown, especially for those who spend extended periods in a wheelchair.
Improved Posture: Proper wheelchair cushions can help maintain an upright and ergonomic posture. This is crucial for spinal health and can prevent long-term musculoskeletal issues.
Enhanced Comfort: A good cushion can significantly increase the comfort level for wheelchair users, making it easier to sit for prolonged periods without discomfort.
Stability and Support: Wheelchair cushions can provide added stability, ensuring that users don't slide or shift, which can be especially important during transfers or while navigating uneven terrains.
Temperature Regulation: Some advanced wheelchair cushions come with materials that help regulate temperature, ensuring that users don't get too hot or cold, which can be particularly beneficial in extreme weather conditions.
Vibration Damping: Cushions can absorb shocks and vibrations from rough surfaces or bumpy rides, offering a smoother experience and reducing fatigue.
Hygiene and Skin Health: Many wheelchair cushions have breathable covers and materials that wick away moisture, preventing skin issues and ensuring better hygiene.
The 5 Types Of Wheelchair Cushions
Selecting the right wheelchair cushion is paramount not only for comfort but also for health and postural support. With advancements in technology and design, there's now a diverse range of cushion types available, each tailored to address specific needs and challenges faced by wheelchair users.
From foam to gel, air, honeycomb, and alternating pressure, each cushion type boasts unique properties and benefits. Let's delve deeper into these types and understand what sets each apart, ensuring you make an informed decision for optimal comfort and support.
Foam cushions: Foam cushions are among the most common wheelchair cushions. Made from various densities of foam, they mold to the user's body shape, providing a stable and comfortable seating surface. Benefit: They are relatively lightweight, easy to maintain, and often more affordable than other types, making them a popular choice for many wheelchair users.
Gel Cushions: Gel cushions consist of a gel-like substance encased in a pouch and then placed on a foam base. This design allows for an even distribution of pressure across the seating surface. Benefit: They excel in providing optimal pressure relief, making them ideal for individuals at a higher risk of developing pressure sores.
Air Cushions: Air cushions are inflatable and allow users to adjust the firmness by adding or releasing air. They are designed to distribute weight and reduce pressure points evenly. Benefit: Their adjustability offers a personalized comfort level and particularly benefits individuals with changing postural needs.
Honeycomb Cushions: Honeycomb cushions are designed with a unique hexagonal structure, resembling a honeycomb. This design allows for better air circulation and weight distribution. Benefit: They are lightweight and breathable, reducing the risk of moisture buildup and skin irritation, especially in warmer climates.
Alternating Pressure Cushions: These cushions use an electric pump to alternate air pressure in different cushion sections. This continuous change in pressure points helps improve blood circulation. Benefit: They are especially beneficial for individuals with limited mobility, as the alternating pressure reduces the risk of pressure ulcers by ensuring that no single point bears the weight for an extended period.
Each of these cushions offers unique advantages, catering to the diverse needs and preferences of wheelchair users. Choosing the right type is essential based on individual requirements and each cushion's benefits.
My Top 5 Cushions
---
1. Cushion Lab-My Top Pick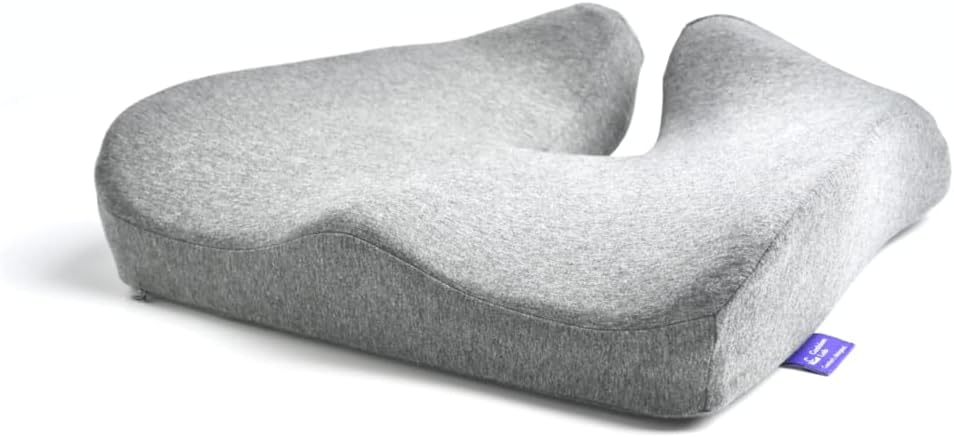 The Pressure Relief Seat Cushion, designed by in-house ergonomists, offers soft support to the hip and thigh, enhancing comfort and posture during prolonged sitting. Its unique split design evenly distributes weight, reducing back pressure. With a grippy base, it stays in place, feeling integrated into the chair. Ideal for extended sitting in various settings, it's made of dense memory foam targeting hip, tailbone, and sciatica relief. Pairing with the brand's Back Relief Lumbar Pillow is recommended for optimal comfort.
It's amazing. I have spine/hip issues, and it's painful if I have to sit for too long. Unfortunately, I need to sit at my desk all day. This cushion is leaps and bounds better than everything else I've tried.
– CC
Specifications
Brand: C CUSHION LAB
Color: Gray
Size: Standard
Filling Material: Memory Foam
Shape: Seat
Dimensions: 18 x 16 x 4 inches
Weight: 2 Pounds
Material: Memory Foam and Polyester
Care Instructions: Machine washable
Features
Ergonomically Molded: Specially shaped by in-house ergonomists, the seat cushion is scientifically contoured to cradle the thighs and hip, helping users sit upright on any chair.
Instant Comfort: The cushion adds immediate comfort to any chair, transforming it into a personal throne. It eliminates back pains and numb legs.
Improved Posture: The ergonomic contours promote proper posture and a straight spine, redistributing the lower body weight for comfort even during extended sitting sessions. It's ideal for driving, working, or using a wheelchair.
Patented Zero Pressure Support: The extra-dense charcoal memory foam offers soft and velvety support while remaining odor-free.
Work from Home Comfort: Provides back and hip relief while working from home on any chair. If not satisfied, the brand offers a hassle-free money-back guarantee.
Grippy Bottom: The cushion's bottom has a grippy texture, ensuring it remains securely in place without slippage.
This seat cushion is designed to provide unparalleled comfort and support, especially for those who spend extended hours sitting. It's also recommended to pair with the Back Relief Lumbar Pillow from the same brand for comprehensive comfort.
Benefits
Ergonomic Design: The cushion is scientifically contoured by in-house ergonomists to cradle the thighs and hip, promoting proper posture and a straight spine.
Instant Comfort: The cushion's extra-dense memory foam provides immediate relief and comfort, transforming any chair into a more comfortable seating option.
Versatile Use: Suitable for various seating environments, including office/home chairs, cars, and wheelchairs, making it versatile for different users.
Odor-Free Material: The charcoal memory foam remains odor-free, ensuring a pleasant experience.
Grippy Bottom: The cushion's textured bottom ensures it remains securely in place without any slippage, adding to its usability and safety.
Drawbacks
Size and Portability: Given its dimensions and weight, the cushion might not be as portable or convenient for individuals who frequently travel or need to move it between multiple locations.
2. DMI Seat Cushion-Best Bang For The Buck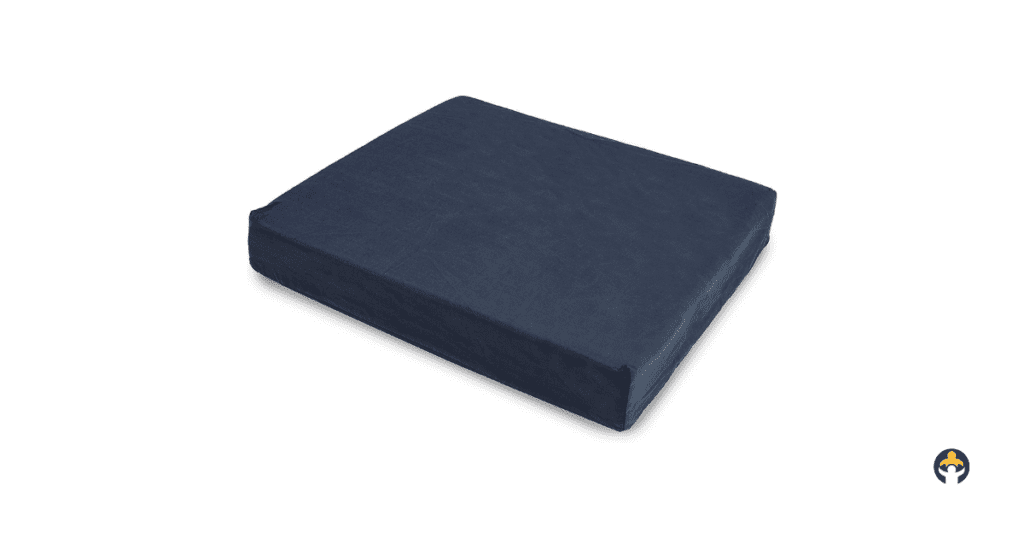 The DMI Seat Cushion is a versatile and ergonomic cushion designed to provide optimal support and comfort for individuals in various seating environments. The DMI cushion offers enhanced support and comfort for various seating options, adjusting to your body's natural shape. Made of durable high-density foam, it's lightweight and ideal for travel. It also features a machine-washable polyester/cotton cover.
I bought this to go in a wheelchair, and it was just what we needed
– Pamala
Specs
The cushion is designed to add support, comfort, and height to wheelchairs, regular chairs, or car seats, effectively reducing pressure on the back and tailbone.
It is lightweight, making it an excellent choice for travel or attending events.
The cushion conforms to the natural contours of your body.
It is constructed of durable high-density foam that won't crack or crumble.
The cushion comes with a removable polyester/cotton cover that is machine washable.
Features
Versatility: This cushion is suitable for a wide range of seating options, including office chairs, wheelchairs, scooters, kitchen chairs, and car seats. Whether you're working at your desk, driving, or simply relaxing at home, this cushion ensures you remain comfortable.
FSA & HSA Eligible: The DMI Seat Cushion is eligible for purchase using Flexible Spending Accounts (FSA) and Health Savings Accounts (HSA), making it a cost-effective choice for those with these benefits.
Support & Height: The cushion provides added comfort and a slight height boost, making it easier for individuals to sit and stand, especially in chairs that might be too low.
Reduces Stress on Key Areas: Its ergonomic design helps reduce stress and pressure on the back, tailbone, and sciatic nerve. This is particularly beneficial for individuals who suffer from tailbone pain, sciatica, or other related conditions.
Durable & Long-lasting: Made with high-quality materials, the DMI Seat Cushion is built to last, ensuring that users get prolonged comfort and support.
Portable: Its lightweight and compact design makes it easy to carry around, ensuring comfort wherever you go.
Benefits
Versatility: Suitable for wheelchairs, regular chairs, and car seats, ensuring wide applicability.
Enhanced Comfort: The cushion conforms to the body's natural contours, providing tailored support.
Pressure Relief: Designed to reduce pressure on the back and tailbone, potentially alleviating pain or discomfort.
Durability: Made of high-density foam, it's built to last and resist wear and tear.
Portability: Its lightweight nature makes it easy to transport, ideal for travel or events.
Easy Maintenance: Comes with a removable and machine-washable cover, ensuring hygiene and prolonged use.
Drawbacks
Size Limitations: The cushion comes in specific sizes, which might not fit all chairs or seating surfaces perfectly.
Thickness Options: While there are different thickness options, finding the right one might require trial and error.
3. YOUFI Gel Seat Cushion-Best Big Cushion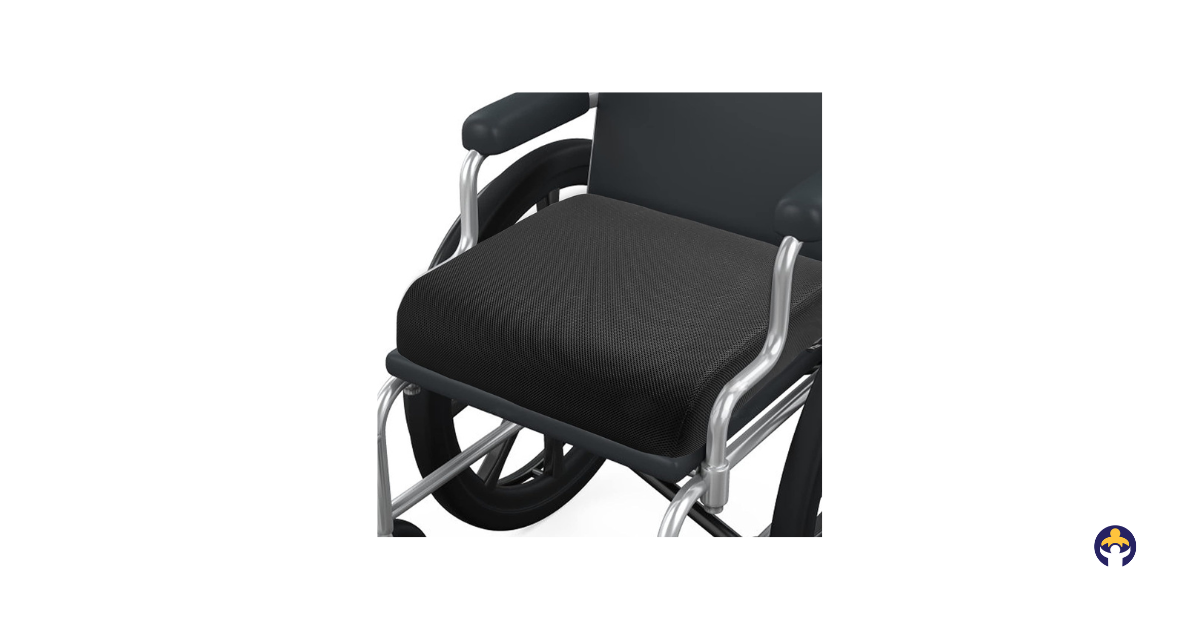 Experience unparalleled comfort with the YOUFI Memory Foam & Gel Seat Cushion. Measuring a generous 18″X16″ X4″, this large cushion is meticulously designed to provide optimal support and relief, especially for wheelchair users and those on mobility scooters.
The product looks great and feels wonderful. I, hopefully, look forward to a long, happy experience with this beautifully designed cushion.
– MB Little
Specifications
Size: 18″ x 16″ x 4″
Fill Material: Memory Foam
Special Feature: Portable
Color: Black
Shape: Rectangular
Recommended Uses: For sitting and back support
Material: 100% Memory Foam
Product Dimensions: 18 x 16 x 4 inches
Item Weight: 3.09 pounds
Cover: Breathable mesh cloth with a gel layer for superior air circulation. Machine washable.
Additional Features: Non-skid bottom and carry handle for portability.
Features
Premium Memory Foam: Crafted with high-density memory foam, this cushion molds to your body shape, ensuring personalized comfort and support.
Cooling Gel Layer: Stay cool and comfortable even during prolonged sitting, thanks to the integrated gel layer that dissipates heat.
Non-Slip Bottom: No more constant adjustments! The cushion's non-slip bottom ensures it stays in place, providing stability and safety.
Convenient Carry Handle: Whether moving from room to room or taking it on the go, the built-in carry handle makes transportation a breeze.
Benefits
Comfort & Relief: Alleviates pressure on the lower back, waist, hips, and thighs. It helps relieve sciatica symptoms and improves blood circulation.
Polymer Memory Foam Core: Offers better comfort and support without flattening, making it ideal for those with hemorrhoids, overweight issues, or sciatica.
Breathable & Durable: The mesh cover and gel cushion combination ensures breathability, keeping you comfortable during prolonged sitting.
Versatile Use: Suitable for wheelchairs, office chairs, computer desks, dining rooms, living rooms, recliners, and more.
Drawbacks
Thickness Preference: Some users may find the cushion thickness too firm or too soft, depending on their preference for cushioning.
Maintenance: Depending on the specific design, the cushion may require occasional or spot cleaning to maintain its freshness and hygiene.
4. ROHO MOSAIC Cushion- Best Inflatable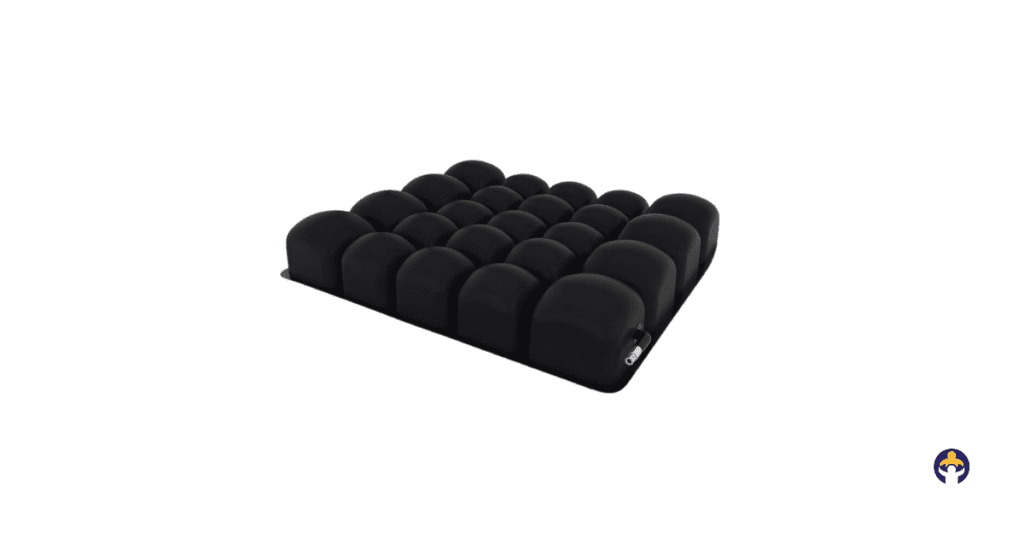 The ROHO HIGH PROFILE and LOW PROFILE Single Valve Cushions have been market leaders in skin protection seat cushions for over 30 years. They offer an optimal environment for clients with skin integrity issues.
The cellular design and the soft, pliable material allow the client to be immersed in the cushion for maximum pressure redistribution while decreasing friction and shear. The simple adjustment allows the cushions to fit the client's shape, minimizing tissue deformation and maximizing blood flow.
I have a breakdown in my tissues because I sit in my wheelchair most of the time. The ROHO Cushion was recommended to me by my Wound Care Center. We will see how it works….. Thank you.
– Anna Sampson
Specifications
Material: 80% Nylon, 20% Spandex
Brand: Roho
Special Feature: Lightweight, Washable
Number of Cells (Width x Depth): 11X10
Construction: Flame Resistant, Neoprene Rubber
Warranty: 24-Month Limited
Medicare Part B Code: K0108
Adjustable: Shapes to the individual addressing their specific seating needs.
Lightweight: Adds little weight to the entire mobility system.
Washable: The cushion can be easily cleaned with soap and water. The cover is machine washable.
Features
Adaptable Comfort: The inflatable design allows you to adjust the cushion's firmness, ensuring a personalized seating experience.
Versatile Use: Its 18″ x 16″ dimensions make it suitable for a wide range of seating options, from office chairs to wheelchairs and car seats.
Durable & Heavy Duty: Built to last, this cushion can withstand the rigors of daily use while maintaining its shape and support.
Stretchable Cover: A stretchable cover fits snugly over the cushion, enhancing its comfort and durability.
Non-Skid Bottom: The cushion's bottom is designed to grip onto surfaces, preventing it from sliding and ensuring you remain securely seated.
Back Pain Support: Its ergonomic design promotes healthy posture and alleviates pressure points, making it an excellent choice for those with back pain or discomfort.
Benefits
Pressure Redistribution: The cellular design allows for even pressure distribution, reducing the risk of pressure sores and ulcers.
Customizable Comfort: The inflatable design means users can adjust the cushion's firmness, ensuring a personalized seating experience.
Versatility: Suitable for a wide range of seating options, from office chairs to wheelchairs and car seats.
Durable: Made of high-quality materials, ensuring longevity and consistent performance.
Skin Protection: Designed to minimize friction and shear, common causes of skin breakdown.
Drawbacks
Price: High-quality ROHO cushions can be pricier compared to other cushion types.
Maintenance: Requires regular checks to ensure it remains properly inflated and maintains its shape.
5. Roho Quadtro- Best High Profile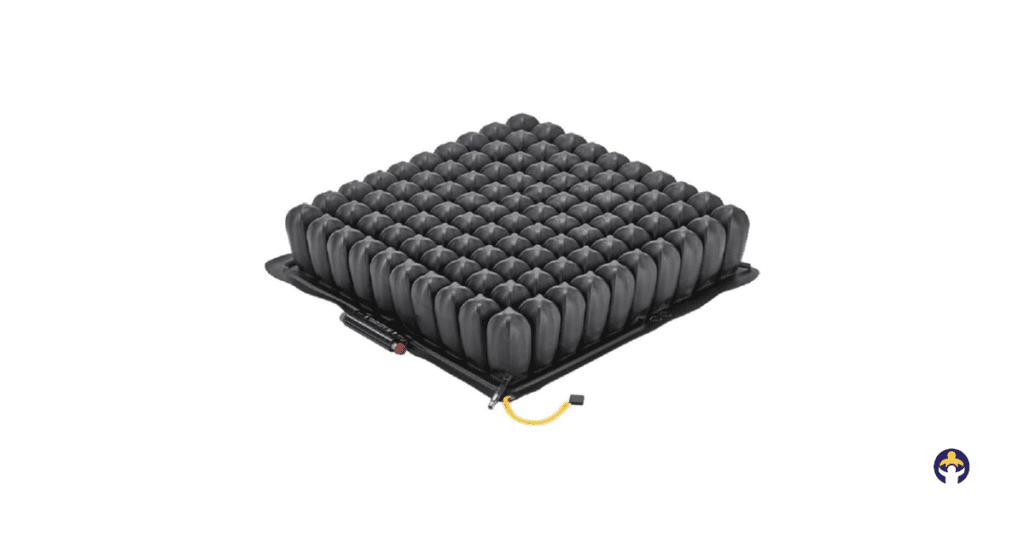 The Roho Quadtro Select High Profile Seating and Positioning Wheelchair Seat Cushion, measuring 18 x 20 inches, is a state-of-the-art cushion designed to provide optimal comfort and support for wheelchair users. Its unique high-profile design ensures even weight distribution, reducing the risk of pressure sores and enhancing overall seating stability.
The cushion is equipped with the Quadtro Select adjustment system, allowing users to customize the level of firmness according to their preference. Made with durable materials, this cushion not only offers therapeutic benefits but also ensures longevity, making it a reliable choice for those seeking enhanced wheelchair seating comfort.
There is no comparison. When you earn a wheelchair, you deserve to sit in comfort, and the Roho cushions are second to none.
– Dan
Specifications
Brand: Roho
Size: 18″W x 20″L x 4″H
Weight: Approximately 3.8 lbs (1.7 kg)
Material: Neoprene cushion with a polyester & nylon cover
Features
Lightweight and easy to handle.
Comes with a pump and repair kit.
Designed to be fully inflated to maximize comfort.
The cushion's unique design ensures even weight distribution and reduces the risk of pressure sores.
Equipped with the Quadtro Select adjustment system for customization.
The cushion offers therapeutic benefits and is made with durable materials for longevity.
Pros
Therapeutic Benefits: The cushion's unique design ensures even weight distribution, reducing the risk of pressure sores and promoting better blood flow.
Complete Package: The cushion comes with a pump and repair kit, ensuring that users have everything they need for maintenance and adjustments.
Durable and Lightweight: Made of neoprene with a polyester & nylon cover, the cushion is both durable and lightweight, making it easy to handle and carry.
Cons
Price: The cushion is priced at $417.00, which might be considered expensive for some users.
Inflation Requirement: The cushion needs to be fully inflated to maximize comfort, which might be a learning curve for some users to find the right inflation level for their needs.
---
My Top Pick For A Wheelchair Cushion Is
Cushion Lab-My Top Pick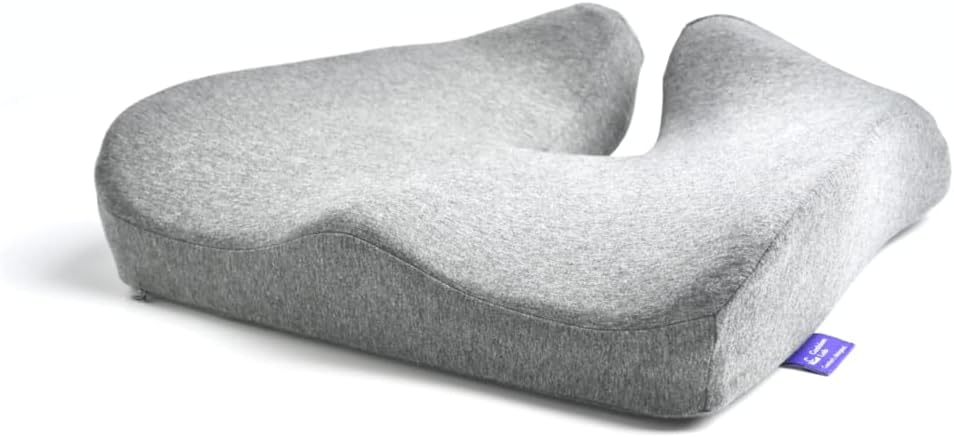 My dad has tried numerous wheelchair cushions over the years, and the Cushion Lab Patented Pressure Relief Seat Cushion has emerged as his top pick. The tailbone cut-out feature has been especially beneficial for him, providing much-needed relief from pain stemming from an operation he had years ago. It's evident that this cushion offers a unique blend of comfort and support, tailored to his needs. However, there's one minor hiccup – the cover can be a tad challenging to remove and put back on. But given its benefits, it's a small trade-off for the comfort it provides. If you or a loved one has similar needs, this cushion might just be the perfect fit. He highly recommends this cushion.
FAQ's About Wheelchair Cushions
Why are wheelchair cushions important?
Wheelchair cushions are essential for providing comfort, pressure relief, and proper positioning for individuals who spend extended periods in a wheelchair. They help in preventing pressure sores, improving posture, and enhancing overall wheelchair use experience.
What are the different types of wheelchair cushions?
There are several types of wheelchair cushions, including:
Foam Cushions: Made from various densities of foam and offer basic comfort and support.
Gel Cushions: Contain a gel bladder and are known for their pressure-relieving properties.
Air Cushions: Filled with air and can be adjusted to the desired firmness.
Honeycomb Cushions: Made of a unique honeycomb structure that distributes weight evenly.
Contoured Cushions: Designed with molded shapes to provide specific support and positioning.
How do I clean and maintain my wheelchair cushion?
Cleaning and maintenance depend on the cushion's material. Generally, it's advised to:
Remove the cushion cover and wash it separately, following the manufacturer's instructions.
Wipe down foam and gel cushions with a damp cloth and mild detergent.
Air cushions can be deflated, wiped down, and reinflated.
Always allow the cushion to dry completely before using it again.
How do I choose the right wheelchair cushion for my needs?
Purpose: Whether you need it for comfort, pressure relief, or positioning.
Material: Based on your preference and specific needs.
Size: Ensure it fits your wheelchair and provides adequate coverage.
Durability: Depending on how often you use your wheelchair.
Budget: There are options available at various price points.
Consultation: It's always a good idea to consult with a healthcare professional or therapist to get a recommendation tailored to your needs.
More Wheelchair Articles Here
Why Trust Me?
I am not just someone who recommends products without understanding their significance. I am a VA Certified caregiver, dedicated to providing the utmost care to my 102-year-old father, a proud veteran of World War II. Every day, I witness the challenges he faces, being wheelchair-bound. Among the many essentials we prioritize for his well-being, a cushion stands out as a paramount item. We've been through numerous brands, types, and styles, always in search of that perfect blend of comfort and support for him. So, when I talk about the importance of a good cushion, it comes from a place of deep personal experience and genuine concern for those in similar situations.