In mobility aids, the Karman S-115 Ergonomic Wheelchair stood out as a testament to innovation and user-centric design. Weighing in at a mere 25 lbs, this wheelchair promises not only ease of transport but also the comfort of an ergonomic design tailored to support the user's posture. Its sleek and modern appearance is more than just aesthetics; it reflects the thoughtful engineering that went into creating a wheelchair that meets the diverse needs of its users. Whether you're navigating the bustling streets of a city or the quiet corridors of your home, the Karman S-115 Ergonomic Wheelchair is designed to offer unparalleled mobility and comfort.
Karman S-115 Ergonomic Wheelchair Specs
Cost
$599
Frame
Aircraft-grade aluminum alloy for enhanced durability and reduced weight
Weight
25 lbs (ultra-lightweight design for easy transport)
Seat Width
18 inches (standard) with options for 16 and 20 inches
Seat Depth
16 inches
Backrest Height
17 inches, adjustable
Weight Capacity
Supports up to 250 lbs
Wheels
Front: 6-inch solid casters
Rear: 24-inch large wheels with quick-release axles
Brakes
Push-to-lock wheel brakes for safety
Armrests
Padded, detachable, and adjustable in height
Footrests
Swing-away design with heel loops for added security
Upholstery
Breathable mesh material for enhanced comfort
Foldable
Yes, for easy storage and transport
Additional Features
Anti-tippers for added safety
Ergonomic hand rims for efficient wheeling
Pressure relief cushioning for extended seating comfort
Karman S-115 Ergonomic Wheelchair Overview:
The Karman S-115 Ergonomic Wheelchair is a cutting-edge mobility solution for individuals seeking comfort and convenience. Crafted with an emphasis on ergonomics, this wheelchair ensures optimal posture and reduced strain during prolonged use. Its ultra-lightweight build, a mere 25 lbs, makes it a breeze to transport, whether traveling across town or moving it from one room to another. Beyond its weight, the S-115 boasts a sleek and modern design, reflecting the innovation and thoughtfulness that went into its creation. Ideal for indoor and outdoor use, this wheelchair promises a blend of durability, comfort, and style, catering to a wide range of mobility needs.
Karman S-115 Ergonomic Wheelchair Features
Foldable Back Rest-Quick Storage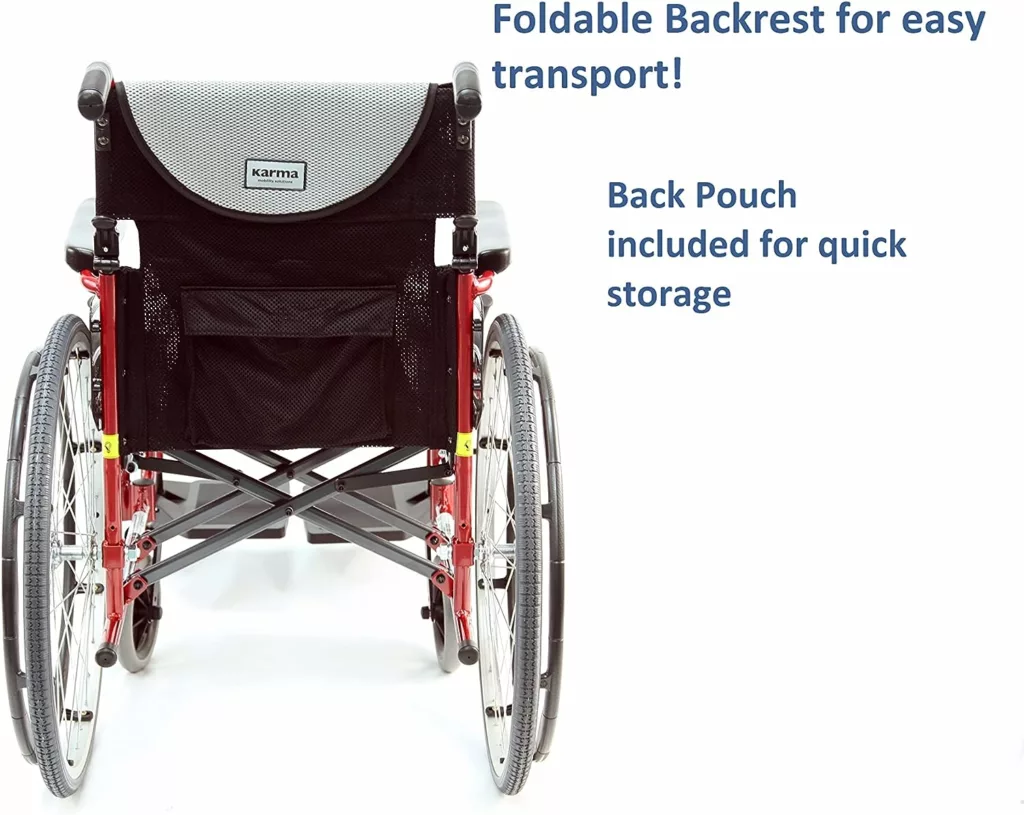 The Karman S-115 Ergonomic Wheelchair is meticulously designed for the user's convenience. One of its standout features is the foldable backrest, which ensures a comfortable seating experience and simplifies transport, making it an ideal companion for those on the move. Additionally, the wheelchair has a handy back pouch, providing users with quick and accessible storage options. Whether navigating daily tasks or embarking on longer journeys, the S-115 combines functionality with ease of use, making mobility more effortless.
---
Removable Upholstery
The Karman S-115 Ergonomic Wheelchair is not just about functionality; it's also about personalization and style. One of its distinguishing features is the removable upholstery, allowing users to maintain and clean the seating area easily. But what truly sets it apart is the choice of three distinct colors, catering to individual preferences and ensuring that the wheelchair is not just a mobility aid but also a reflection of the user's personality. With the S-115, Karman has successfully merged practicality with aesthetics, offering a wheelchair that's both efficient and stylish. You Might Need A Cushion for your new Wheelchair.
---
Ergonomic Seating System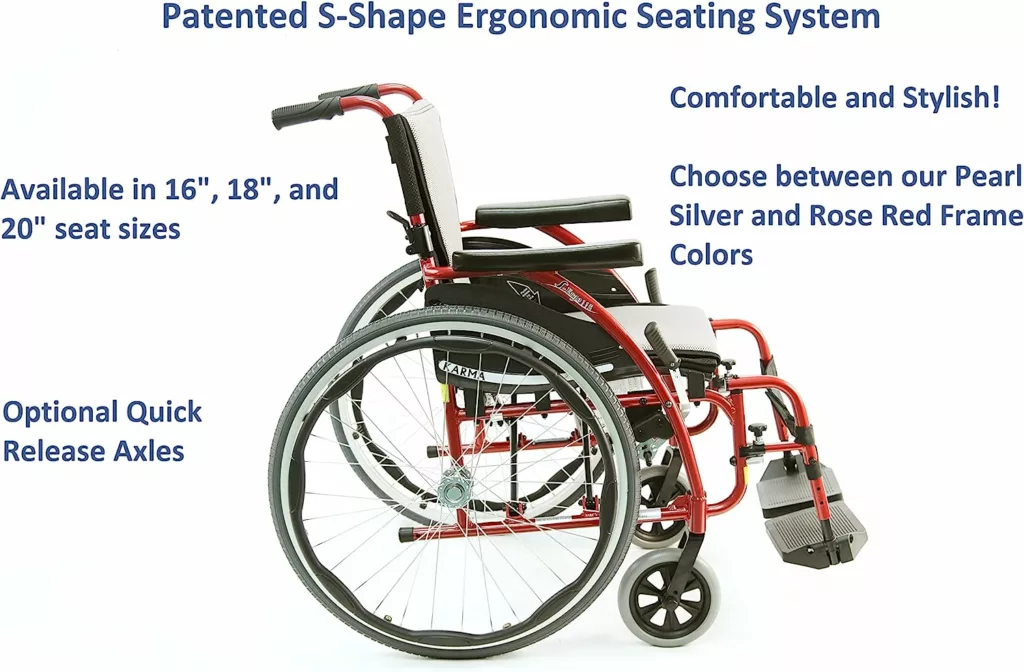 The Karman S-115 Ergonomic Wheelchair is a testament to its innovative design and user-centric features. Its patented S-shape seating ensures optimal comfort and posture support, setting it apart from conventional wheelchairs. Catering to diverse user needs, it's available in seat widths of 16, 18, and 20 inches, ensuring a snug fit for every individual. For those seeking added convenience, the optional quick-release axles make wheel removal a breeze. Beyond its functional attributes, the S-115 doesn't compromise on style. It's available in three striking colors: a classic pearl, a sleek silver, and a vibrant red, allowing users to choose a wheelchair that aligns with their style.
---
Customer Reviews From Amazon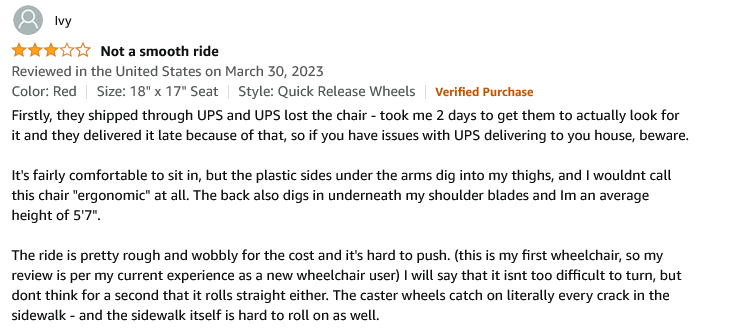 Karman Healthcare: A Pioneer in Wheelchair Innovation
Karman Healthcare has firmly established itself as a leading innovator in the home medical products industry since its inception in 1994. Renowned for its commitment to excellence and mobility, Karman specializes in a broad spectrum of mobility products, from power and manual wheelchairs to walkers, rollators, and scooters. Their dedication to ergonomics and lightweight design is exemplified in their patented S-ERGO S-Shape.
Seating System is a testament to their relentless pursuit of comfort for wheelchair users. With a diverse product range that caters to various mobility needs, Karman Healthcare has consistently prioritized user comfort and functionality. Their wheelchairs, such as the Karman S-115 Ergonomic Wheelchair, are not just mobility aids but are also designed to reflect the user's style, available in multiple sizes and colors. The company's "Excellence through Mobility" ethos resonates in every product they offer, making them a trusted name in the industry.
Benefits and Drawbacks Of The Karman Ergonomic Wheelchair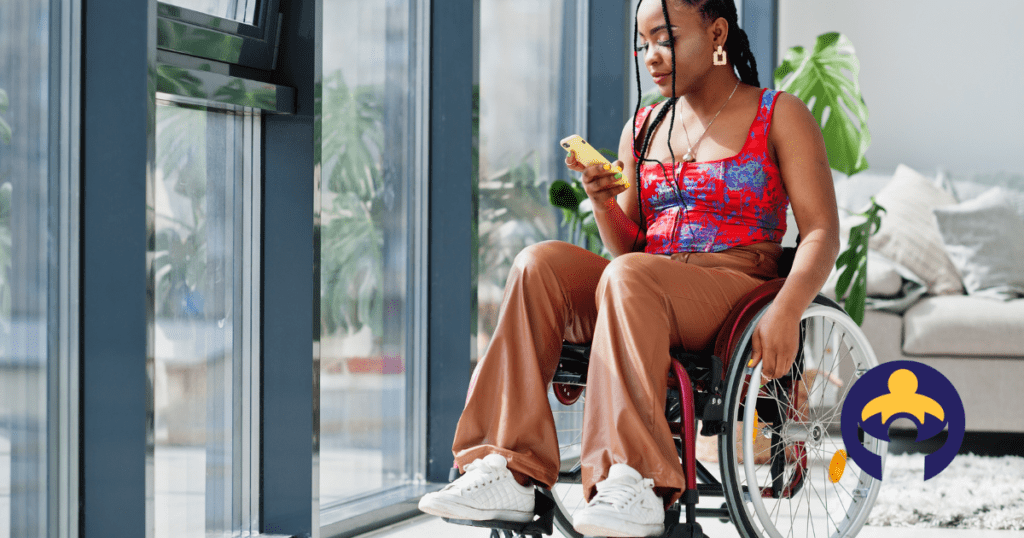 Benefits
Ergonomic Design:
The patented S-shape seating ensures optimal comfort and support, reducing the risk of pressure sores and promoting good posture.
Lightweight:
Being ultra-lightweight makes it easier to transport, especially for caregivers or users who travel frequently.
Customization:
Available in three seat widths (16, 18, and 20 inches) allows users to choose a size that offers the best fit and comfort.
Quick-Release Axles:
Optional quick-release axles make it simpler to remove the wheels, which can be beneficial for storage or transport in tight spaces.
Stylish Choices:
With three color options (pearl, silver, and red), users can select a wheelchair that aligns with their style.
Removable Upholstery:
This feature makes cleaning and maintenance easier, ensuring the wheelchair remains hygienic.
Drawbacks
Limited Off-road Capability:
Like many wheelchairs, the S-115 might not be ideal for off-road or uneven terrains.
Color Limitations:
While three colors offer variety, some users might want more options or specific shades to match their preferences.
Frequently Asked Questions
What makes the Karman S-115 wheelchair "ergonomic"?
The Karman S-115 is designed with user comfort in mind, ensuring optimal weight distribution and reducing the risk of pressure sores. Its design promotes proper posture and minimizes strain on the body.
How much does the Karman S-115 wheelchair weigh?
The Karman S-115 is an ultra-light wheelchair, weighing in at just 25 lbs, making it one of the lightest in its class.
What are the standout features of the Karman S-115?
One of its notable features is the removable footrest, allowing for easy customization based on the user's needs. Its sleek and modern frame is both aesthetically pleasing and robust.
Is the Karman S-115 suitable for both indoor and outdoor use?
Yes, the Karman S-115 promises a smooth and comfortable ride, making it suitable for navigating indoor spaces and traversing outdoor terrains.
How durable is the Karman S-115 wheelchair?
The wheelchair boasts a robust frame, ensuring durability for long-term use. It's designed to withstand regular wear and tear while maintaining its functionality.
Can the Karman S-115 be easily stored and transported?
Its lightweight design and potential foldable features make it convenient for storage and transportation.
Buying Guide
1. Purpose & Usage
Determine the primary use of the wheelchair. Will it be used mainly indoors, outdoors, or for travel? Some wheelchairs are designed specifically for certain terrains or activities.
2. Fit & Comfort
Ensure the wheelchair fits the user comfortably. Consider factors like seat width, depth, and cushioning. Adjustable armrests and footrests can also enhance comfort.
3. Weight & Portability
If you transport the wheelchair frequently, opt for a lightweight, foldable model. This makes it easier to lift and fit into vehicles.
4. Durability & Build
Look for a wheelchair with a sturdy frame and high-quality materials. Check the weight capacity to ensure it can support the user safely.
5. Additional Features
Consider wheelchairs with added features like reclining backs, tilt-in-space functions, or specialized wheels for different terrains. These can enhance the user's experience and adaptability.
My Final Thoughts
After thoroughly reviewing the Karman S-115 Ergonomic Wheelchair, I'm convinced it's an exceptional product in mobility aids. Its comprehensive set of features and thoughtful design not only meet but exceed my expectations. For anyone like me searching for a new wheelchair, this model isn't just a purchase—it's a worthwhile investment. The perfect blend of ergonomics and added extras make it my top recommendation for those prioritizing quality and comfort.
More Wheelchair Articles Here…
What Next?
Are you looking for more information on wheelchairs? Well, Check out my post on self-propelled wheelchairs. It might give you more insight into what you are looking for. Thanks for reading.