Navigating life in a wheelchair presents unique challenges, one of which is the simple act of using a bathroom sink. This seemingly mundane task can become a daily struggle for many wheelchair users. But, there's a solution – a wheelchair accessible bathroom sink. In this guide, we'll walk you through '16 Quick Tips For Choosing A Wheelchair Accessible Bathroom Sink.' We'll delve into key considerations, from the height and shape of the sink to the type of faucets and the clearance underneath. So, let's dive in and transform your bathroom into a more wheelchair-friendly space.
The features of a wheelchair accessible sink may include:
Faucet lever handles that don't require tight grasping or twisting (the faucet should not pinch your fingers or hands)
Faucets with lever handles that are easy to turn on and off
A knee space underneath the lavatory which allows wheelchairs to fit under the sink
Enough knee space for wheelchairs to fit underneath the sink (particularly if handles need to be raised high enough)
1. Measure your current sink
Make sure you measure your existing pedestal and bathtub (if any). It will help us decide on different floor plans and how much space we have. If we do not measure, we can have some unpleasant results like; A big gap between tub and sink or too-small of a shower stall for someone who needs an extra-wide entrance/exit space. If you are planning to get wheelchair accessible bathtub, then measure your tub size. If it is too small for a standard size roll-in shower stall, you might consider getting an accessible access walk-in tub
2. The type Faucets for wheelchair Accessible Bathroom Sink
There are different types of sink faucets like; handheld spray option (like shown in the picture), single lever, or two levers. While buying, it will be wise to check out all these types and choose one that can be operated by someone who has limited upper-body mobility.
3. Grab Bars for wheelchair Accessible Bathroom Sink
Grab bars installed at the right height is very important. It should be placed 40-45 cm (16 – 18inch) high so that when you are sitting in your wheelchair, your elbows will be naturally resting on the surface of the grab bars.
4. Faucet Location For wheelchair Accessible Bathroom Sink
As you can see in this picture, there is a big difference between these two types of faucets. The one on the left is good for wheelchair users because it doesn't interfere with the knee space. The one on the right makes wheelchair users' legs bump into it whenever they use their sink, making using a wheelchair more difficult and uncomfortable.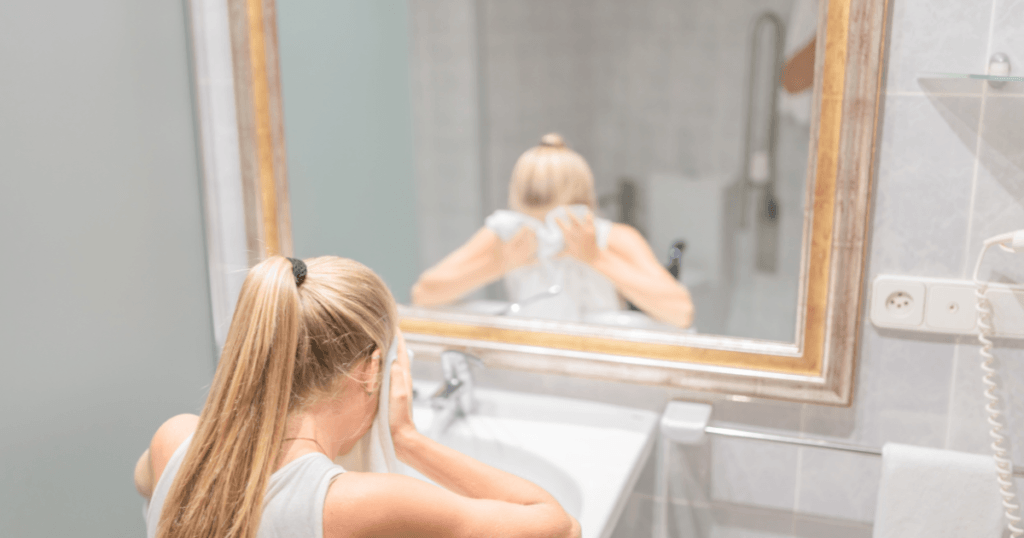 5. Clearance Underneath Your Sink
The clearance underneath your sink should be a minimum of 45 cm (18 inches) or 60 cm (24 inches) wide. If the space is too narrow, the wheelchair user will have difficulty applying pressure to their hands and arms while washing them.
6. Wheelchair Accessible Bathroom Sink Shape
Sink with rounded edges makes it easier for wheelchair users to wash their hands, as you can see in this picture.
7. The Height Of Your Wheelchair Accessible Bathroom Sink
The height of your sink must be between 40 – 45cm (16 – 18inch). This will make sure that wheelchair user doesn't feel uncomfortable while using the sink. Compare these two sinks below; one has a higher surface than another due to its pedestal design, making wheelchair users bump into it when they wash their hands.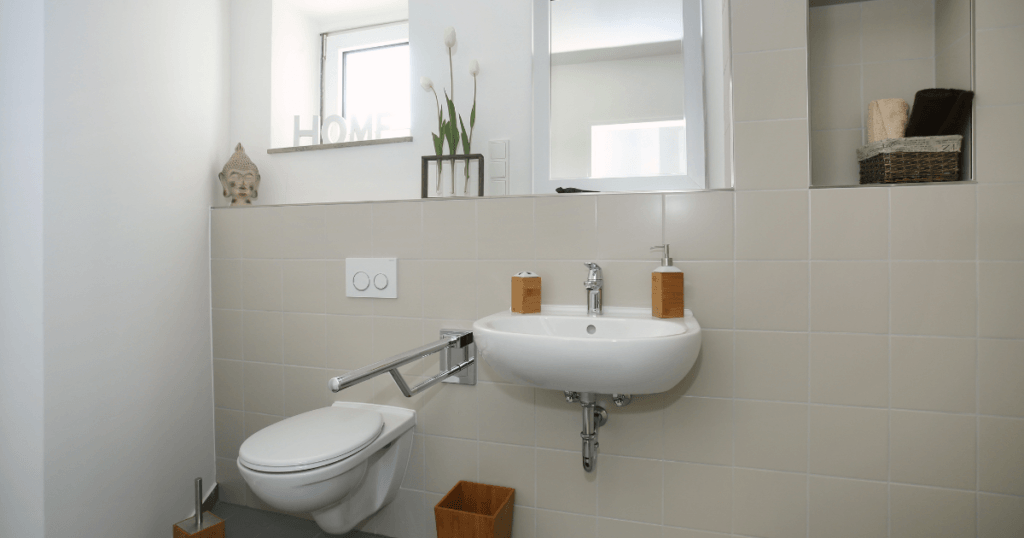 8. Overhead Cabinets
Overhead cabinets installed too low or too high can make using a sink tough, primarily if located directly above the faucet. Ensure that there is no obstruction over your head when you turn on and off your tap. This will prevent water from splashing onto your face and eyes.
9. Doorway Diameter For Your Wheelchair
It is imperative that the door opening is wide enough to enter your bathroom with a wheelchair. The standard doorway should have a space of at least 81cm (32 inches).
10. Shower or Tub For your Wheelchair
If you plan to install a roll-in shower in your bathroom, ensure no doors are installed between your bathroom and bedroom. It can be inconvenient if you need to carry all your stuff through the bedroom because of a closed door. Also, check the location of the electrical outlet above the floor before installing it so as not to interfere with any grab bars inside the shower/tub area.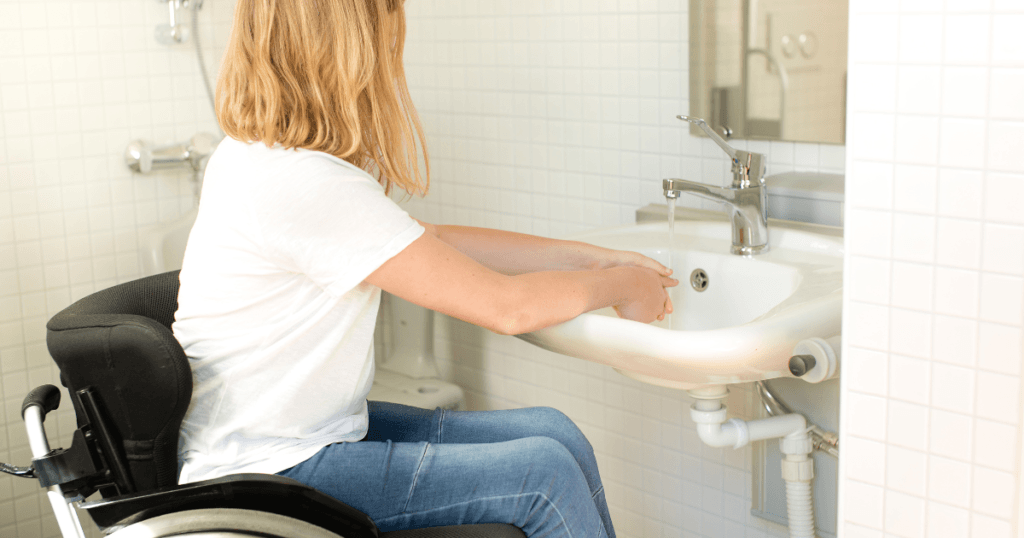 11. Toilet Location
The location of the toilet will affect your access to your bathroom and vice versa. Wheelchair users may have difficulty turning around to get inside their bathroom if the door is located more than 2 meters (6-7 feet) away from the toilet. Also, it is difficult for a wheelchair user to transfer onto a separate commode next to the tub or shower, especially if there are no nearby railings.
12. Grab Bars Near Toilet
Grab bars should be installed next to the commodes so that users can hold on to them during bowel movements. They must be adequately secured to avoid being damaged by moving wheels.
13. Control Type Of The Faucets & Handles They Are Easy To Turn On/Off
Most wheelchair users cannot control their wrist well enough to turn a faucet knob. For them to use it, make sure that your faucets have levers or push-button mechanisms instead of knobs. Also, do not install too many faucets in a small bathroom because it will make it difficult for a wheelchair user to promptly move in and out of the room.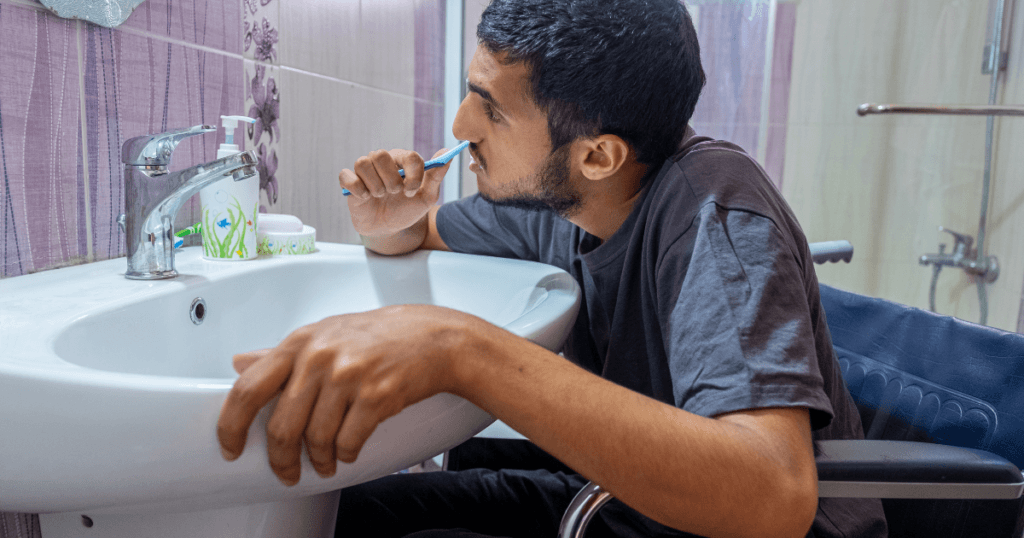 14. Lighting For Your Wheelchair Accessible Bathroom Sink
Lighting is an essential part of every house, but if you have a dark bathroom with poor lighting, then it can be even more uncomfortable for people who are using wheelchairs. A good way around this problem is by installing brighter light bulbs and adding additional wall lights on each side of your sink. This will brighten up your bathroom area and make you feel more relaxed while using the bathroom.
15. Don't Add Toilet Paper Holder Or Soap Dispenser Near Your wheelchair Accessible Bathroom Sink
Toilet paper holder should be installed 12 to 18 inches above the floor for wheelchair users to reach it easily without straining their arms. Also, keep in mind that you shouldn't install any wall-mounted soap dispenser within the 10-inch range of your sink. Otherwise, it might interfere with the toilet paper holder's arm when they are washing their hands.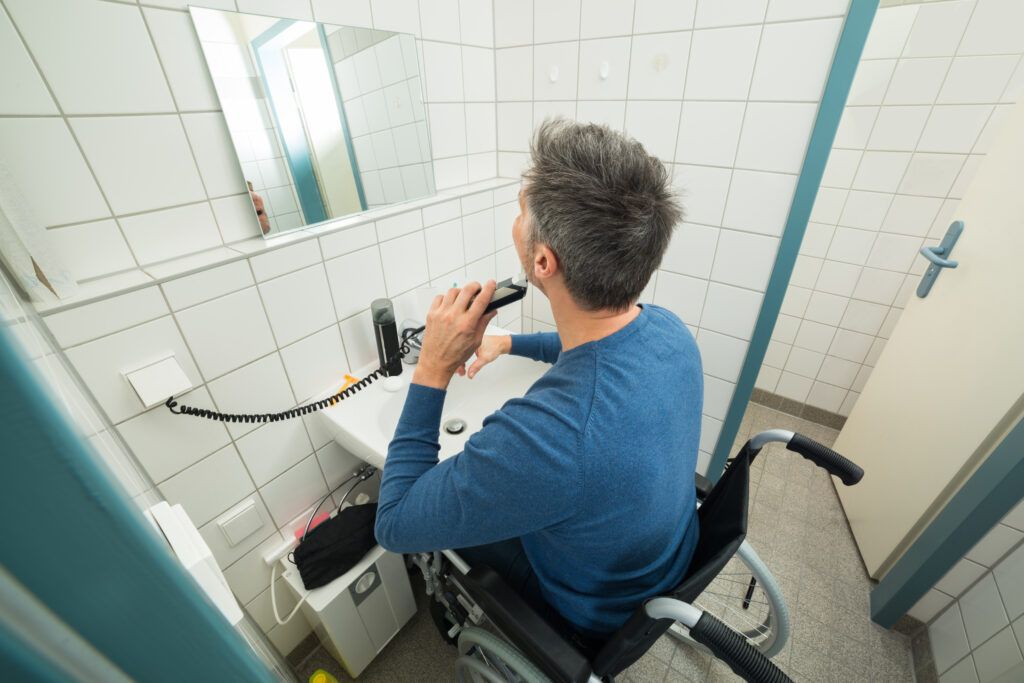 16. Make Sure The Floor Is Slippery And Non-Slip
There are different flooring options available out there which you can choose from, but don't forget that each has a different height from the ground. Be sure to choose a floor surface that's no higher than 2cm (3/4 inch) above your sink so you can have enough space for it to roll under smoothly.
You can easily find out if a bathroom is wheelchair accessible by checking those things mentioned in the article. If you are planning to renovate your existing bathroom, now you know what kind of thing should be considered when doing so. Check our website and read our other articles as well! See you! 🙂
What is a wheelchair accessible sink?
Wheelchair accessible sinks are bathroom washbasins that meet the required standards of depth, clearance and height as ADA. These attributes make them more usable by all individuals who use wheelchairs which is why these types of fixtures have become increasingly popular in recent years!
More Wheelchair Articles Here
There Are The Best Tips On Accessible Sinks
Choosing a wheelchair accessible bathroom sink is not just about enhancing the aesthetics of your bathroom; it's about making a life-changing improvement for wheelchair users. The right sink can significantly enhance the quality of life, promoting independence and comfort. We hope these 16 Quick Tips For Choosing A Wheelchair Accessible Sink For Disabled have provided you with valuable insights to make an informed decision. Remember, a wheelchair-friendly bathroom is not a luxury; it's a necessity that promotes inclusivity and accessibility. So, take these tips to heart, make the necessary changes, and create a bathroom that caters to everyone's needs.