Are you seeking a hands-free mobility solution that offers independence and confidence? The iWalk Knee Crutch could be your answer. This groundbreaking device is designed to provide a smooth, confident walking experience that traditional crutches can't match. With the iWalk Knee Crutch, you can minimize stress on your shoulders, hands, and wrists, and regain your independence. In this article, we delve into the unique features of the iWalk Knee Crutch and how it can revolutionize your mobility. Let's get started.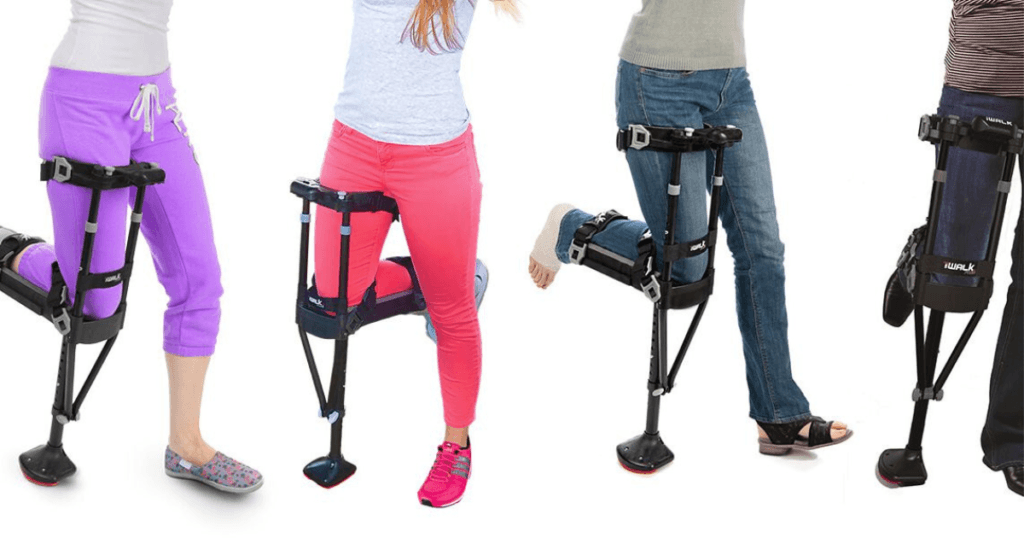 iWalk Knee Crutch Review Specs
An Overview of iWalk Knee Crutch
Although the iWALK crutch is a good option for hands-free mobility, it's important to understand that there are certain sacrifices you may have to make. Comfort levels and walking efficiency could be compromised; fatigue might also set in more quickly than normal, uninjured gait. Before making your purchase decision – take some time to read through all of the listing details so you can better anticipate what lifestyle adjustments will come with this device usage!
Why You Might Need A iWalk
Meet iWalk, your new best friend on the go! iWalk Knee Crutch is designed to give you the mobility and freedom of movement normally associated with two healthy legs. With its adjustable aluminum bars, lightweight yet durable construction, and adjustable handlebars that mirror natural movements, iWalk is the perfect companion for anyone looking to stay active. Enjoy your newfound sense of freedom and ditch those bulky crutches forever – iWalk has got you covered!
Pain free – hands free mobility
iWalk Knee Crutch makes mobility a breeze! Finally, you can be free from the pain and hassle of traditional crutches, and have the convenience of having both hands free for other tasks. iWalk Knee Crutch puts you in the driver's seat of your mobility again – no sweat required! Whether it's an important meeting or just a day out with friends, iWalk crutch gives you the confidence to walk with ease and grace. After all, life isn't about waiting for it to happen – it's about making it happen with iWalk Knee Crutch.
Regain your independence
Wouldn't it be great if you didn't have to rely on someone else for support? iWalk Knee Crutch enables you to regain your independence by providing a hands-free crutch that shifts the user's weight away from their hand and onto their knee. No more feeling helpless or asking loved ones for help; iWalk Knee Crutch is here to provide unmatched freedom and flexibility in your daily life. And, don't worry about having to learn to use it either – iWalk is designed to be as easy as child's play! So what are you waiting for, it's time to trade dependence for independence and discover iWalk Knee Crutch today!
Quickly converts for Left or right leg use
The iWalk Knee Crutch revolutionizes the experience of crutch users! Have you ever wished crutches were more intuitive and efficient? iWalk has put an end to the struggle of crutch users, producing a product that can be quickly converted between left and right leg use. iWalk is comfortable, ergonomic, and convenient for any daily activity. Whether you want to go shopping or take your pet for a walk in the park, iWalk makes sure you stay mobile with ease. With iWalk there's no need to worry about converting your crutch every time; just pick up and go!
iWalk Knee Crutch
#1 Amazon Best Seller
Superior Comfort
Quickly converts for Left or Right leg uses
Regain your independence
If you click this link and make a purchase, we earn a commission at no additional cost to you.
About the iWalk Knee Crutch Brand
After months of hard work and dedication, the iWALK Free crutch was developed and refined. With invaluable input from professionals in the medical field, this innovative mobility device received Medical Device Establishment License approval from Health Canada's Therapeutic Products Programmer – thus receiving the official green light to be released on Canadian markets! It wasn't long before it gained worldwide recognition for setting a new standard in hands free mobility; becoming registered with both FDA (United States) & CE certified in Europe shortly after its launch back 2000.
After being subjected to numerous studies and awarded prestigious honors, such as the Manning Innovation Award for "Best New Product", it's no wonder that iWALKFree has been backed by thousands of enthusiastic users. This product flipped the medical industry upside down with just a simple concept – one showing an unwillingness to settle for what was already available. Today, we are still reaping the benefits from this revolutionary idea!
Pros and Cons of the iWalk Knee Crutch
Below are are few Benefits and Drawbacks of the iWalk Knee Crutch
Benefits
Benefit One – Durability
iWalk Knee Crutch is the way to go when it comes to mobility devices. It strikes the perfect balance between convenience and durability for those of us who need a little extra help with our daily tasks. iWalk's range of products are designed using industrial-grade materials that are built to last, so you can trust iWalk Knee Crutch will still be there for you season after season. With iWalk products, you don't have to compromise on comfort or safety, as iWalk Knee Crutch ensures your needs are met with every use!
Benefit Two – Easy to use
If you think crutches limit your mobility, think again. iWalk Knee Crutch is revolutionizing the game by providing a safe and easy-to-use option that's comparable to walking on two feet. Allowing users to walk securely while reducing pain and fatigue in lower limbs, iWalk Knee Crutch offers vast benefits including stability of movement, individualized adjustment levels, and the convenience of hands-free mobility. Change the way you move with iWalk Knee Crutch – it's easier than you don't!
Benefit Three – Ergonomic design
iWalk Knee Crutch is a revolutionary new way to improve mobility and reduce the stress that crutches can cause. With iWalk's ergonomic design, you don't have to worry about the aches and pains that traditional crutches bring – iWalk knee crutch eliminates them! It relieves pressure points on your body like no other product can, so you can focus on your recovery process with less pain. iWalk Knee Crutch also has adjustable straps for any size leg, making it an ideal mobility solution for any user. iWalk could be the answer to significant and lasting mobility improvements you've been waiting for.
Drawbacks
Drawback One – Knee pad was uncomfortable
The iWalk Knee Crutch has a great idea behind it, but after some experimenting with it, the drawbacks become quite clear. Namely, the knee pad's lack of comfort. If you thought trying to balance on one leg was difficult already, try doing it when your knee is screaming in agony – it makes you think twice about wanting another iWalk Knee Crutch! Bottom line: If iWalk looks for ways to improve that knee pad and make contact between the user and the crutch more comfortable overall, this product could really find its place as an effective mobility aid.
Drawback Two – Hard to return
iWalk Knee Crutch certainly may have its benefits, but if you are considering buying one be aware that returning it may not be so simple. As much as iWalk tries to make sure their customers are comfortable and happy, they don't always get it right. Make sure that you read all the information on the iWalk website and familiarize yourself with their return policy before you make a purchase, in case you end up needing to go through the process of returning your iWalk Knee Crutch.
Drawback Three – Impossible to use
iWalk Knee Crutch sounds like a great idea, unless you can't actually use it. Unfortunately, iWalk can be impossible to use for some people. Its one-size-fits-all design makes it unusable for individuals who don't fit the iWalk shape criteria. Despite its promise of simplicity and convenience, iWalk Knee Crutch often leaves users feeling frustrated that they're unable to access its range of features. What iWalk has in clever marketing, it seems to lack in accessibility and adaptability. That said, iWalk Knee Crutch should definitely consider widening their range or adding more versatility so as not to miss out on customers who are ready and willing to give their gadget a try!
Which crutches are most comfortable?
Confidently stand tall with forearm crutches! They help keep you in proper posture, reducing the risk of back pain. Plus they make sure your armpits don't have to support any extra weight – no soreness here. So rest assured that comfortable crutching can be yours if this is your preferred solution!
I Walk You Crutch …
In conclusion, the iWalk Knee Crutch is more than just a mobility aid; it's a tool for independence. Despite some drawbacks, its numerous advantages such as improved balance and enhanced mobility make it a worthy investment. The iWalk Knee Crutch offers a unique blend of comfort, convenience, and freedom, making it a game-changer in the world of mobility aids. So, if you're ready to step out with confidence and style, the iWalk Knee Crutch is the way to go. Embrace the freedom of movement and regain your independence with the iWalk Knee Crutch today.