Wheelchair threshold ramps whether it's at your front door, inside your garage, or on your back deck, chances are every part of your home is not on the same level. If you're looking to reduce the risk of tripping and make it easier for mobile device users and shuffle steppers to move through your home's doorways, wheelchair threshold ramps come in various ramps, mats, and plates that can help provide a smooth transition over raised thresholds.
Best Wheelchair threshold Ramps (Updated List)
| # | Preview | Product | Rating |
| --- | --- | --- | --- |
| 1 | | EZ-Access Transitions Modular Aluminum Entry Ramp | Best Overall |
| 2 | | Ruedamann Non-Skid Threshold Ramp | Best Portable |
| | | Silver Spring 4″ High Rubber 3-Channel Threshold Ramp | Most Diverse |
Why You Should Get a wheelchair threshold ramp
Threshold ramps are great ways to provide safe passage through doorways, sliding glass doors, and over raised landings, and various indoor/outdoor thresholds that drop off.
They are designed to be used by individuals in wheelchairs, power scooters, or those using walkers, rollators, canes, and general foot traffic.
What to Look for When Buying Wheelchair threshold Ramps
Everyone has different preferences on what is important or not when deciding on wheelchair threshold ramps. Still, we want to offer opinions on the most important things the wheelchair threshold ramps should have. Is it portable is one thing you should look for in threshold ramps. The rise of the threshold ramp making sure it fits the rise of the threshold is the most important item. And cost and durability are things to ask yourself before you purchase one.
Is the wheelchair threshold Ramp Portable?
A portable threshold wheelchair ramp is significant. Suppose you are traveling to a family member or friends or anywhere. Getting in the house or building is helpful. Having a portable threshold wheelchair ramp will solve this problem.
What is the wheelchair threshold Ramp made of?
Aluminum or Hard Rubber and or Steel? Does it have a skid-proof surface? Is it weatherproof? These are all good questions to ask before deciding on a purchase.
Is the wheelchair Threshold ramp adjustable to your threshold height?
Make sure you measure your threshold and find the threshold wheelchair ramp that fits best. Maybe find an adjustable one. To fit your needs. Most come in different heights for an easy decision.
3 best wheelchair threshold ramps Product Reviews
Here are the reviews of the best 3 best Wheelchair Threshold Ramps
1.EZ-Access Transitions Modular Aluminum Entry Ramp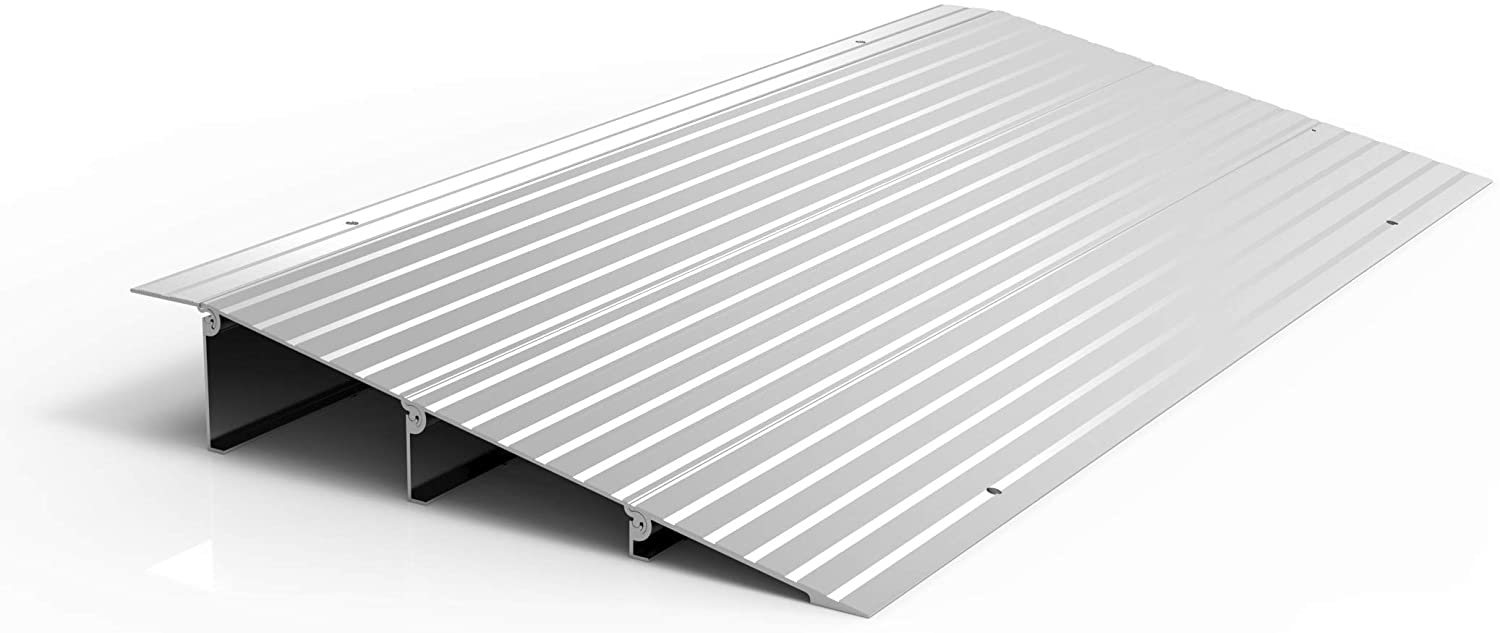 EZ-Access Transitions Modular Aluminum Entry Ramp, Access for homes and cars, make your living space easier and safer with threshold ramps for doors that are a little too high, semi-permanent ramps, and portable ramps for vehicles and temporary needs. Increase Mobility and Security: Mobility solutions help you or a loved one regain confidence, freedom, and the ability to safely and independently access a home or vehicle with less stress and more security. It also comes in 6 different heights.
Pros
Easy to install
Sturdiness
Light weight
Cons
2.Ruedamann Non-Skid wheelchair threshold Ramp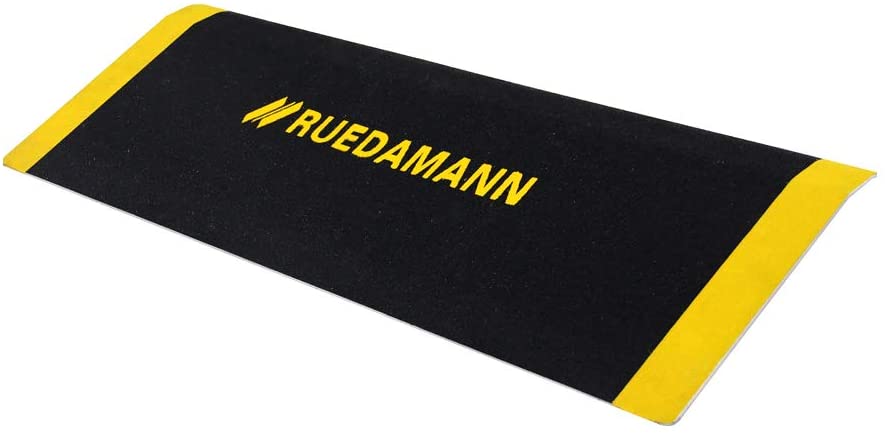 Ruedamann Non-Skid Threshold Ramp is made for doorways, small thresholds, and attached to the edge of the door threshold. Perfect for use in any area, both indoors and outdoors. It can be used for manual wheelchairs, not for electric wheelchairs. Ruedamann Non-Skid Threshold Wheelchair Ramp is a lightweight and portable threshold ramp made from non-rust, slip-proof and water-resistant aluminum.
Pros
Well built
Light Weight
Easy to use
Cons
Maybe to short for some wheelchairs
Measure before ordering
3.Silver Spring 4″ High Rubber 3-Channel wheelchair threshold Ramp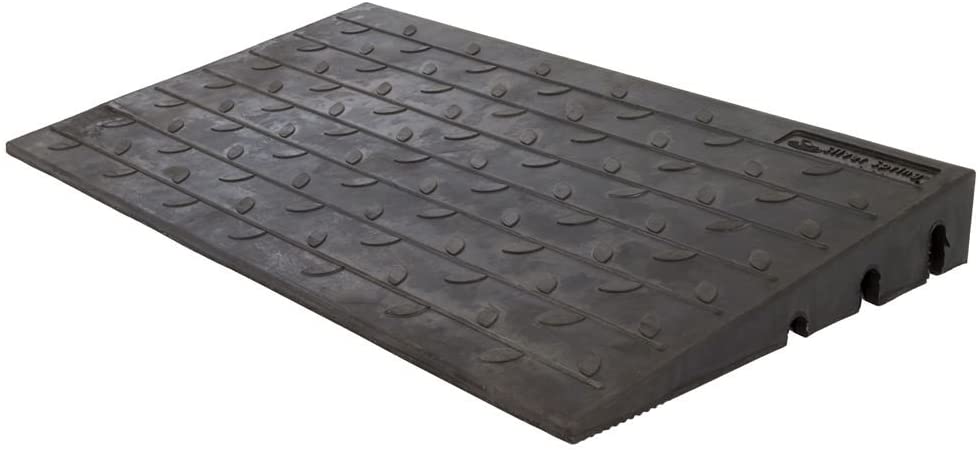 Silver Spring easily overcomes rises to 4 inches high in your wheelchair, scooter, or power chair with the Silver Spring Rubber Solid Threshold Ramp. Mobility is an issue for home, work, or anywhere; these ramps have a 600-pound weight capacity that can support most four-wheel mobility scooters. The solid rubber construction easily accommodates uneven surfaces, and the textured non-slip surface fares well in all weather conditions. These ramps have three channels on the underside to accommodate hoses, cables, or other small wires.
Pros
Durability
Sturdiness
Heavy Duty
Cons
To tall for some thresholds
Make sure you measure
---
FAQ's About wheelchair threshold ramps
Here are some commonly asked questions about Threshold Wheelchair Ramps and a quick video with some additional information to consider when choosing a ramp.
Can I use it in the shower
Maybe to get in the shower but getting out, you would have to have the room to turn your wheelchair around, but maybe it would work.
Would this be safe for someone who is using crutches?
I would say yes, it would be great for someone on crutches. Just make sure it fits tight so you don't trip.
Does this ramp meet ADA handicap access standards?
Yes, it does. Like most Wheelchair Threshold Ramps, most are ADA compliant.
Conclusion
Threshold wheelchair ramps deliver a smooth transition through doorways and over small inclines, steps, and uneven flooring for people of all ages living with either temporary or permanent mobility challenges. Whether you use a walker, wheelchair, rollator, or mobility scooter, threshold ramps help to prevent slips and falls, providing safer access for both riding and walking.
We researched the best threshold ramps available in today's marketplace, factoring in ease of installation, durability, ease of use, functional features, and the feedback from the actual real-life users of these ramps to determine our thee best choices. Thanks for looking.