Searching for a compact and easy-to-use power wheelchair? You might be experiencing the pain of limited mobility and the frustration of bulky, hard-to-handle equipment. As an expert in mobility aids, I understand your needs and have spent years reviewing and testing products in this industry. Today, I'm focusing on a product that's been gaining attention for its innovative design and user-friendly features: the Innuovo Electric Wheelchair. This lightweight, foldable wheelchair is designed with you, the user, in mind, and I'm excited to share my insights with you. Let's build a rapport as we explore this product together, and I'll guide you through its features, benefits, and potential drawbacks.
Innuovo's Lightweight Electric Wheelchair is perfect for travel and easy to store. Weighing only 50lbs, they build this power wheelchair with an aviation aluminum frame and folds in 3 seconds. The seat cushion is 7.5cm thick, providing comfort and stability. In my Innuovo Electric Wheelchair Review, I will reveal everything you need to know about this cool foldable and lightweight wheelchair.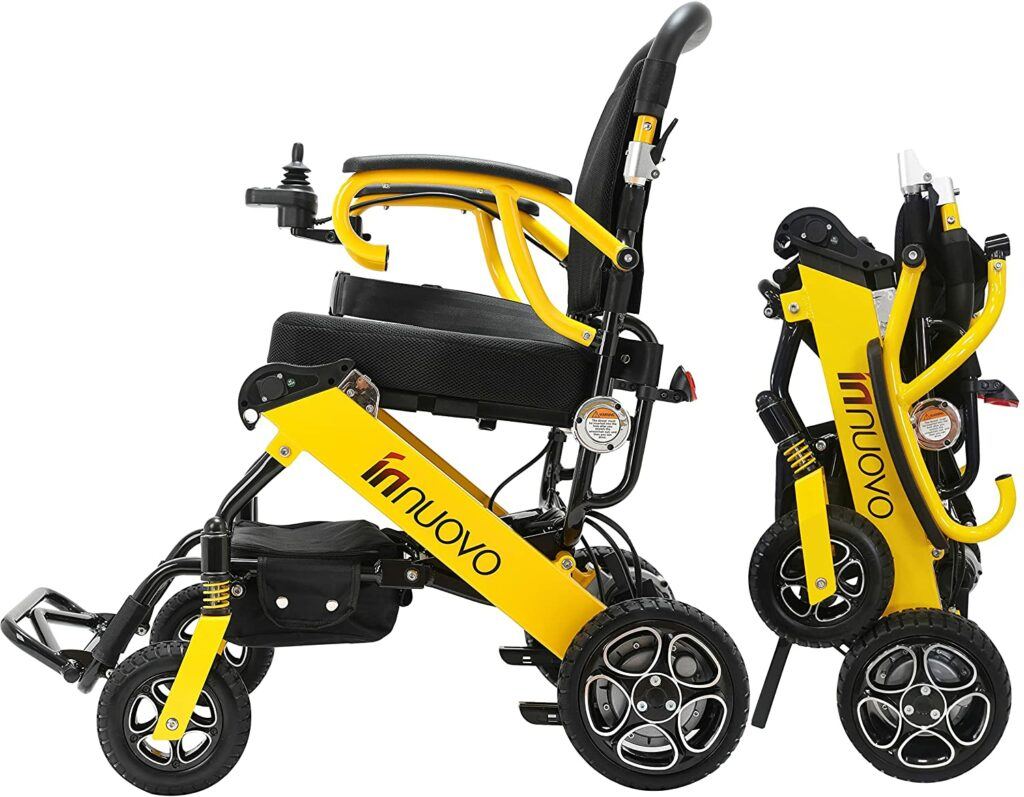 Innuovo Electric Wheelchair Review: Specs & Details
An Overview of The Innuovo Electric Wheelchair
The Innuovo lightweight foldable electric wheelchair is perfect for indoor and outdoor use. It is compact and easy to fold, making it easy to transport and store. They make the wheelchair with durable materials and has a stable frame. It also has a built-in controller and an intelligent alarm system.
Innuovo Features
Innuovo Lightweight Foldable Electric Wheelchair has some fantastic features to make your life a lot more independent. I will list a few below, so read on!!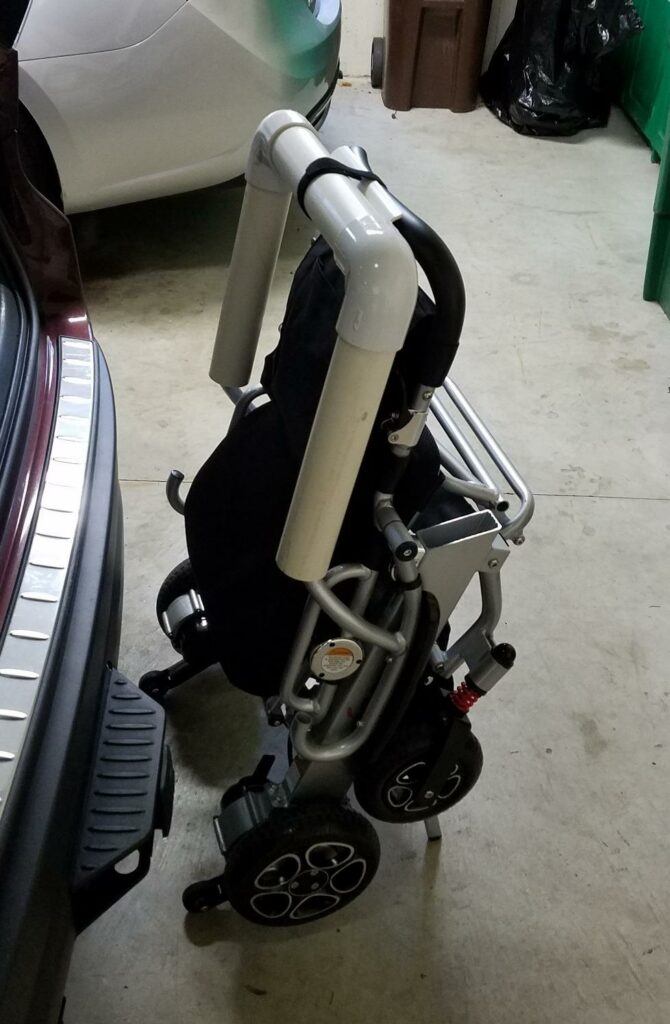 1) A safer Choice
The Innuovo Lightweight Foldable Electric Wheelchair is a high-quality, lightweight electric wheelchair that is easily transported. This model includes many safety features, such as an extendible armrest and 360-degree control with securely grounded motors in both front wheels for stability when going around corners or up hills!
2) Innovative joystick design
Innuovo's Electric Wheelchair has an innovative joystick design and updated electric braking system that gives you superior motion control, quick stopping power with the ability to stop on a dime. The adjustable anti-leaning rear stability feature keeps it perfectly stable for any adventure! With its built-in 2 high-performance lithium batteries (1 left side battery running & 1 backup), this lightweight foldable chair can go anywhere without worrying about being out-powered by competitors or losing power due to steep slopes—perfect when traveling abroad where there may not be accessible public charging stations available at all times."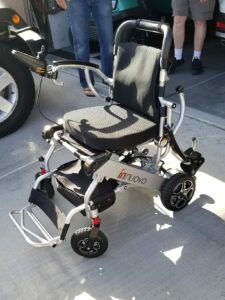 3) Lightweight
We know you want your power chair to be durable and lightweight. That's why our team designed the Innuovo Wheelchair Electric with an aluminum frame, which makes it super sturdy while still being only 50lbs! You can easily fold this model up in 3 seconds for storage or travel- which means there will never again be a shortage when going on adventures around town together 🙂
4) Fantastic Stability and Comfort
Innuovo's Electric Wheelchair FANSTATIC STABILITY AND COMFORT -Thanks to our power chair's unique 7.5cm thick seat cushion(with belt), it is incredibly comfortable and prevents depression sores caused by a lack of posture while sitting for long periods or sleeping on an inclined surface as one would find at home—as well protecting the caudal spine from twists!
About the Innuovo Brand
Innuovo is a well-established company that manufactures high-quality power chairs and scooters for those who need them. They have been in operation since 2015 when they launched their first product into international markets with outstanding success!
Innuovo is a world-leading manufacturer of power chairs and scooters, with many years of experience producing high-quality products for both international markets. We have got CE certification and FDA approval, which means our mobility devices meet the highest standards around the globe.
Innuovo Electric Wheelchair: Benefits and Drawbacks
The Benefits
I am 85 and LOVE this wheelchair – The cool Innuovo Electric Wheelchair has made my life more convenient. I can now use it for mobility and take along in the car because of its small size, which allows me to get around easily at home as well! The best part? All these innovations have earned praise from friends who live nearby — they notice how differently this product operates than other wheelchairs we've had before; one even commented that their Resident loves "the innovative features
Great For Travel – This chair was a life-changing purchase for me. I purchased it just days before heading out of state to visit my son, and though the seller assured me they would be on time with shipping (they weren't), their response when questioned about how long things usually take this way…was prompt enough that there were no worries at all! The ease in setting up once arrives proved itself invaluable while traveling across Texas–it allowed me so much more freedom than any other supported device could provide alone; whether used as an ordinary desk space or lying down flat against your back during those stressful hours spent waiting around airports.
So easy to use and fold away – This chair is perfect for my 89-year-old mom who lives in an assisted living facility. She learned how to use it immediately, with no difficulty at all! We even took the foldable wheelchair along when she visited doctor recently because that's what you're supposed to do – prop yourself up and drive yourself there (and nobody has trouble lifting). The size of this particular model makes accessing meals easier than other bulky motorized carts or chairs would usually be; thus saving me time running back and forth between home & dining area while also freeing up space underneath tables where these heavy equipment typically sit waiting until someone needs.
The Drawbacks
Beeping Sound is to Loud – This chair was a complete waste of money and it's very unfortunate that my brother isn't using the product. The beeping sound, when in reverse, makes for an incredibly annoying experience, which is why I don't think anyone will ever want or need one!
Won't go on some surfaces – When I first got this wheelchair, it was great. The quality of the product seemed top notch and could do whatever my needs demanded of it-even climbed stairs with ease! But over time, things started going wrong; All systems would shut down if you tried to go anywhere but flat ground or climb up slight inclines (and even then there's no guarantee).
Pulls to one side – When I first got the chair, it pulled to one side. It wasn't until my husband looked at how poorly designed this thing was that we realized what an issue he had been facing all along! We fixed our problem by pushing out into grass when necessary and replacing those linking pins with weights so they don't break like eggs — but now even these are coming apart from wear-and- tear caused because people weight over 300lbs (136kg) sit in them sometimes…
Innuovo Electric Wheelchair Reviews from Verified Amazon Customers
Here are some screenshots of people who have purchased the Innuovo Electric Wheelchair from Amazon and have taken the time to leave a review. I have linked each screenshot to Amazon for your convenience.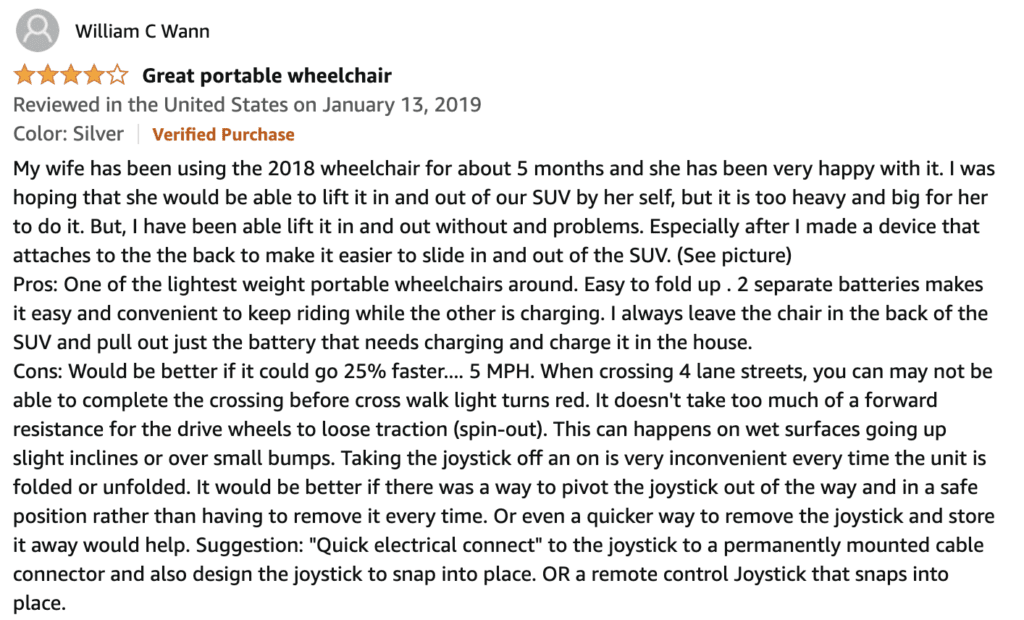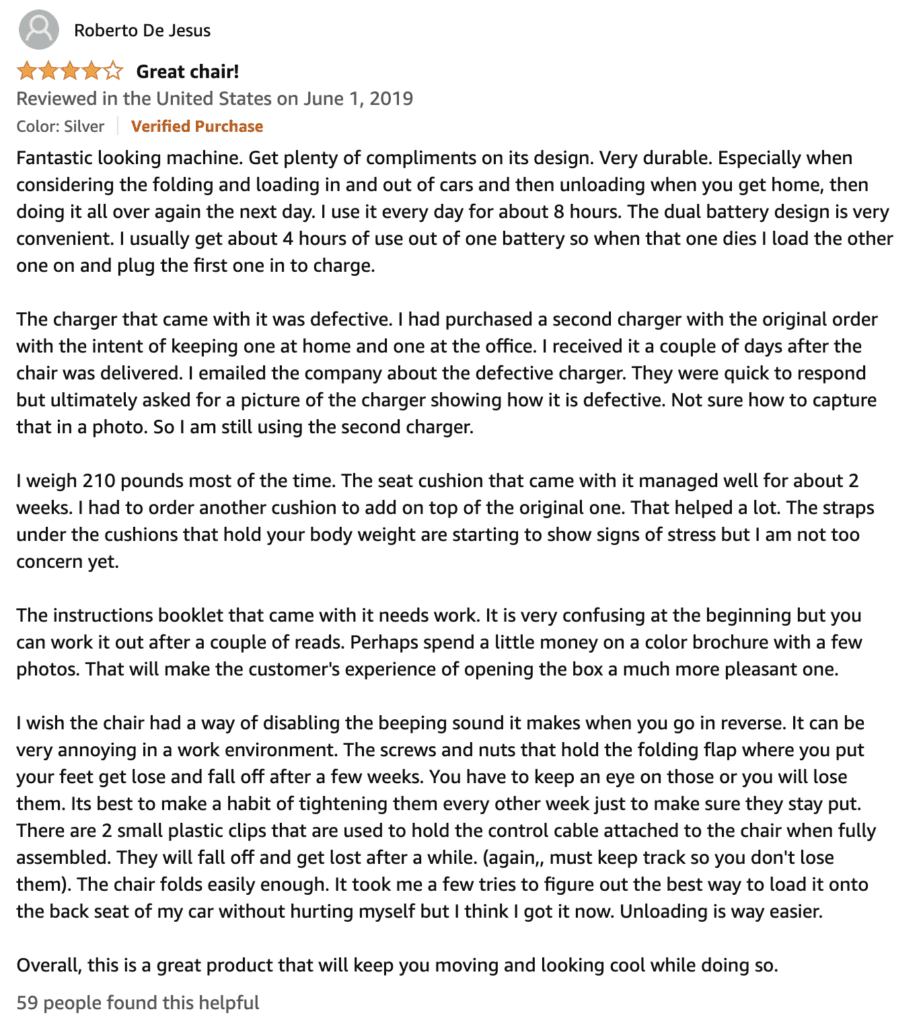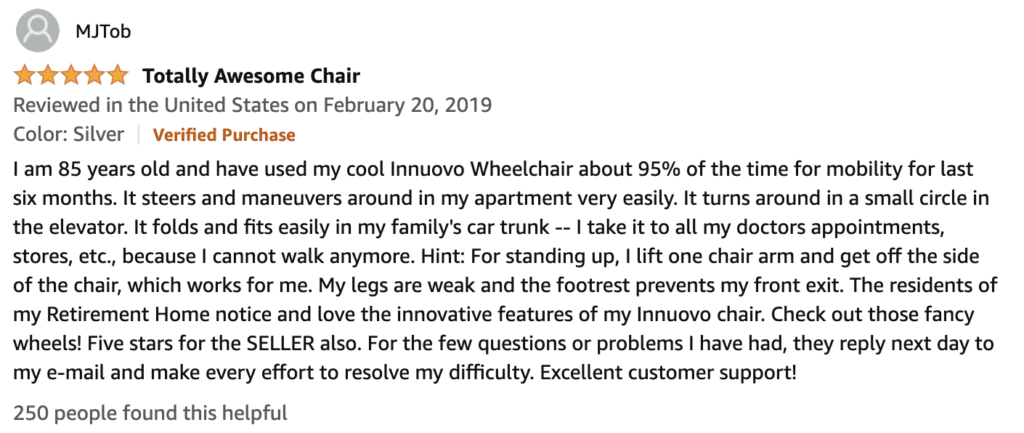 What feature makes this chair "intelligent "?
We have equipped with the electro-magnetic braking system, one hand loose the joystick, will make the chair stop immediately.
More Wheelchair Articles Here
Lets Innuovo …
After a thorough review of the Innuovo Electric Wheelchair, I can confidently say that it's a game-changer for those seeking a lightweight, foldable, and easy-to-use power wheelchair. It's not just about the product's features; it's about the freedom and independence it can bring to your life.
However, like any product, it has its pros and cons, and it's essential to consider these before making a purchase. If you have any questions or would like to share your experiences with this wheelchair, feel free to leave a comment below. Remember, the right mobility aid can significantly enhance your quality of life, and I'm here to help you make that choice. Thank you for reading, and I hope this Innuovo Electric Wheelchair review has been helpful.