In a world that often overlooks the needs of Persons with disabilities, finding appliances that cater to our unique requirements can be a challenge. The kitchen, a place of nourishment and warmth, should welcome all. And when it comes to Easy To Use Microwaves, those with dials stand out as champions of accessibility.
While many modern microwaves come equipped with touch panels, voice commands, and an array of buttons, they aren't always the most user-friendly for everyone. For those with visual impairments, mobility challenges, or tactile sensitivities, the tactile feedback of a dial is not just a preference—it's a necessity. It's not about resisting the latest technology; it's about ensuring that everyone can enjoy the benefits of these essential kitchen appliances.
The beauty of Easy To Use Microwaves with dials lies in their straightforward functionality. With a simple turn and a reassuring click, you're on your way to a warm meal. No fumbling with touch-sensitive panels or squinting at tiny digital displays. Just the familiar feel of a dial, offering ease and confidence.
In this post, we'll highlight the Best Easy To Use Microwaves that prioritize accessibility, ensuring everyone can easily navigate the kitchen, regardless of their physical abilities.
Join me as we celebrate the intersection of simplicity and inclusivity in kitchen appliances.
My Top 6 Picks For Easy To Use Microwaves
The 10 Benefits of Easy To Use Microwaves
Easy To Use Microwaves with dials offer several benefits, especially compared to their more technologically advanced counterparts. Here are some of the key benefits:
Simplicity: Microwaves with dials are straightforward to operate. There's no need to navigate multiple menus or decipher complex digital interfaces. Turn the dial to the desired setting, and you're ready.
Tactile Feedback: For many users, especially those with visual impairments or tactile sensitivities, the physical feedback of turning a dial can be more intuitive and satisfying than pressing a button or touching a screen.
Reliability: Dials are often more durable and less prone to malfunction than touch panels or digital displays. There's less that can go wrong with a mechanical dial.
Cost-Effective: Microwaves with dials are more affordable than those with advanced digital features. This makes them an excellent choice for those on a budget.
Faster Operation: Without navigating through multiple settings or options, setting the cooking time or power level can be quicker with a dial.
Less Overwhelming: For individuals who may feel overwhelmed or confused by too many options and features, a microwave with a dial offers a simpler, less intimidating user experience.
Inclusivity: Microwaves with dials can be more accessible to a wider range of users, including the elderly, those with disabilities, or individuals unfamiliar with modern digital interfaces.
Energy Efficiency: Without the need for digital displays or touch panels, some microwaves with dials may consume less power in standby mode.
Aesthetic Appeal: For those who appreciate a retro or minimalist design, microwaves with dials can be a stylish addition to the kitchen.
Consistency: Once users get accustomed to the settings on their dial microwave, they can achieve consistent results every time, knowing exactly where to set the dial for their favorite dishes.
While microwaves with dials might seem basic compared to their high-tech counterparts, they offer a range of benefits that make them a valuable choice for many users. Whether it's the simplicity of operation, the tactile feedback, or the cost-effectiveness, there's much to appreciate about these user-friendly appliances.
Why You Should Buy One
In today's fast-paced world, convenience and efficiency are paramount. An easy to use microwave is not just an appliance; it's a daily companion that simplifies meal preparation. With straightforward controls and intuitive settings, it eliminates the guesswork and potential mishaps of heating or cooking food. Whether you're a busy professional, a parent juggling multiple tasks, or someone who values hassle-free technology, an easy-to-use microwave ensures you spend less time fumbling with complicated buttons and more time enjoying your meals. Investing in such a microwave is an investment in seamless, stress-free living.
The 7 Features To Look For When Buying Easy To Use Microwaves
Simple controls: Choose a microwave oven that has simple controls like dials or knobs, controls that are easy to read, a pull-style handle, an auto shutoff sensor, and a loud DING! Avoid large microwaves with lots of buttons, lots of text, and push-button door openers (especially for arthritis in the hand)
Size: Consider the size of the microwave oven you need. If you have limited counter space, choose a space-saving model.
Power: Look for a microwave oven with at least 700 watts. This will ensure that your food is cooked evenly and quickly.
Child lock: A child lock feature prevents children from accidentally turning on the microwave oven or opening it while in use.
Pre-programmed settings: Some microwaves have pre-programmed settings for cooking specific foods such as popcorn, pizza, and baked potatoes.
Price: Microwaves can range from $50 to $1,400, depending on your chosen type and features. Consider your budget when choosing a microwave oven.
Price: Microwaves can range from $50 to $1,400, depending on your chosen type and features. Consider your budget when choosing a microwave oven.
My 6 Top Microwaves
1. Sharp Commercial Microwave Oven-Top Pick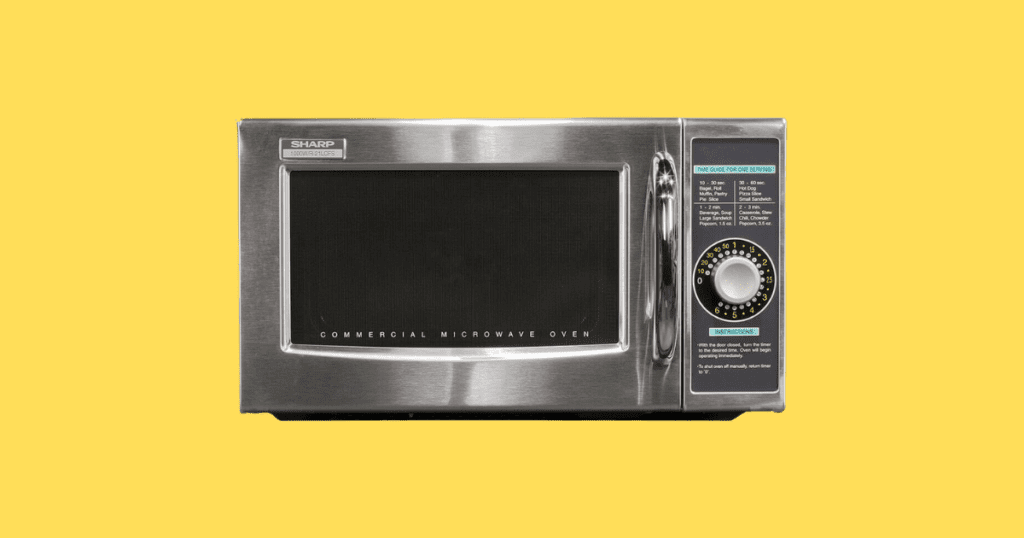 The Sharp R-21LCFS is a medium-duty commercial microwave oven designed for efficiency and durability. Boasting a stainless steel construction, it offers a power output of 1000 watts and operates at 120 volts. Its distinctive feature is the dial timer, which provides straightforward operation. This model, available in one size, is ideal for commercial settings requiring consistent and reliable performance.
I love the simplicity of the controls. It is very easy to use, even for people who forget. If you remove food and close the door, it doesn't start running again.
– KW
Specifications
Simple Operation: Features a classic dial timer that can be set from 10 seconds up to 6 minutes. It also includes bright LED indicators for easy "at-a-glance" monitoring.
Spacious Interior: Offers a 1.0 cu. Ft. capacity can fit a 13-1/2" platter, prepackaged foods, single servings, or even a half-size pan in any direction.
Auto-Cancel Timer: The remaining time gets canceled if the door is opened while the microwave runs. This feature not only conserves energy but also prolongs the magnetron's life.
Maintenance and Aesthetics: The microwave boasts a stainless steel exterior and interior, ensuring easy cleaning and a professional, commercial look.
Heating Time Guide: Located above the timer, this guide provides recommended heating times for various popular foods, offering time-saving convenience to users.
Features
Classic Dial Timer: Allows for easy setting of cooking times, ranging from 10 seconds to 6 minutes.
Bright LED Indicators: Provide clear monitoring, enabling users to check the cooking status at a glance.
1.0 cu. Ft. Interior Capacity: Spacious enough to accommodate various food items, from a 13-1/2" platter to half-size pans.
Auto-Cancel Timer: Ensures energy conservation and enhances the lifespan of the magnetron by automatically stopping the cooking process if the door is opened.
Stainless Steel Construction: Offers a sleek, commercial look while easily cleaning.
Heating Time Guide: A convenient reference above the timer suggests optimal heating times for popular foods.
Pros
User-Friendly Design: The classic dial timer, combined with bright LED indicators, makes it straightforward to set and monitor cooking times, ensuring ease of use even for first-time users.
Versatile and Spacious: With a 1.0 cu. Ft. interior capacity, the microwave can accommodate a variety of food items, from large platters to half-size pans, making it suitable for diverse cooking needs.
Energy-Efficient and Durable: The auto-cancel timer feature conserves energy by stopping the cooking process if the door is opened, and it also extends the life of the magnetron, ensuring longevity.
Con
Lack of Digital Display: The microwave relies on a dial timer and does not have a digital display, which some users might find less precise or modern compared to microwaves with digital touch-pad controls
2. Commercial Chef Counter Top Microwave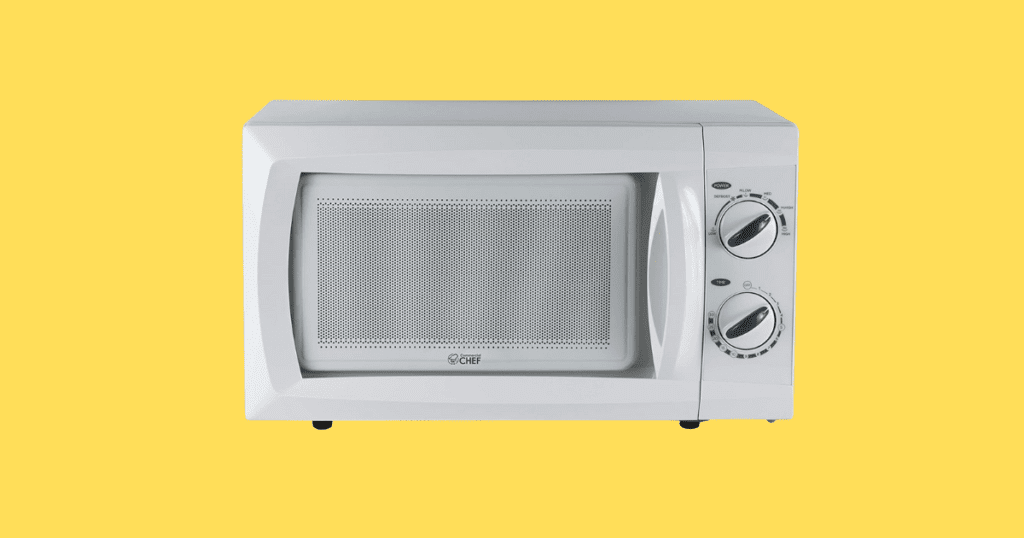 The Commercial Chef CHM660 Counter Top Microwave is a compact and efficient kitchen appliance designed for modern homes and offices. With a capacity of 0.6 cubic feet, it's perfectly sized for small spaces, offering convenient and quick cooking solutions. Its sleek design ensures it fits seamlessly into any kitchen decor, while its advanced features guarantee optimal performance for various cooking needs.
Bought for my 83-year-old father. Great for someone with dexterity problems. Super easy to use.
– Juls
Specifications
Size: Small, compact design.
Control: Mechanical dials.
Power Levels: 6 cooking power levels.
Maximum Power: Up to 600 watts.
Timer: Up to 30 minutes.
Features
Ideal for Small Spaces: Designed for small living spaces such as dorm rooms, apartments, and small kitchens with limited countertop space.
Easy Operation: Simple operation with mechanical dials that control cooking power levels and timer.
Versatile Cooking: Suitable for various cooking tasks, including reheating leftovers, defrosting veggies, and preparing frozen dinners.
Automatic Shut Off: The microwave will automatically shut off when the set timer is complete.
Removable Turntable: A 9.5″ glass turntable holds microwave-safe plates, bowls, and containers. The turntable is easy to clean and dishwasher safe.
Pros
Space-Saving Design: Its small and compact design makes it perfect for limited spaces like dorm rooms, apartments, and small kitchens, allowing users to maximize their countertop space.
Versatility in Cooking: With 6 cooking power levels and up to 600 watts of power, it can handle various cooking tasks, from reheating to defrosting and preparing meals.
User-Friendly Operation: Mechanical dials make operating straightforward, and the automatic shut-off feature ensures safety and energy efficiency.
Cons
Limited Capacity: Given its compact size, it might not be suitable for larger cooking or reheating tasks that require more space.
Mechanical Dials: While they offer simplicity, they might lack the precision and multiple functionalities that digital controls provide in other microwave models.
3. TOSHIBA Combo Microwave Oven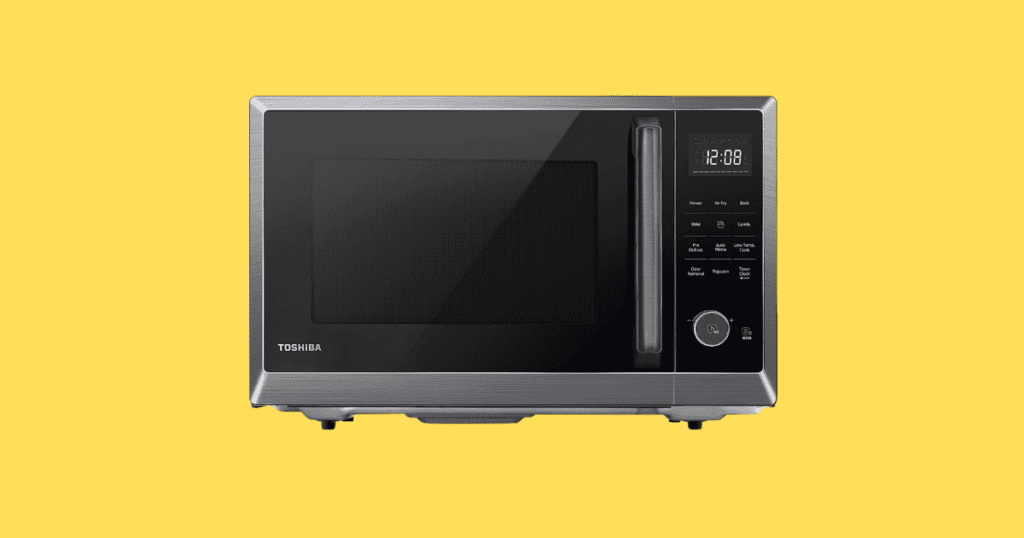 The TOSHIBA Air Fryer Combo is an 8-in-1 countertop microwave oven made of premium black stainless steel. With a 1.0 Cu.ft capacity and a 12.4″ position memory turntable, it ensures even cooking. Features include convection, broil, odor removal, and a mute function, making it a versatile and user-friendly kitchen appliance.
Overall, the microwave was ready to go out of the box and has been a much better experience. It cooks fast, evenly, and without any effort. I highly recommend it.
– Realm Of Nova
Specifications
Microwave Power: 1000 watts with 10 power settings.
External Dimensions: 20.5 x 20.0 x 12.8 inches.
Internal Dimensions: 13.07 x 13.7 x 9.53 inches.
Turntable Size: Φ 12.4-inch position memory turntable.
Features
8-in-1 Multi-functional Capabilities: This microwave serves various functions like microwave, air fry, convection bake, grill/broil, combination cooking, low-temperature cooking, odor removal, and defrosting.
Healthy Cooking: It offers a healthy air fry option to enjoy fried foods with their original taste but with less fat.
Capacity & Size: It has a large capacity with a 12.4-inch removable turntable that can accommodate a whole roasted chicken, a 12-inch pizza, and an 8*4-inch casserole, all while maintaining a small kitchen footprint.
Design & Appearance: Boasts a classic black stainless steel exterior and an easy-to-clean stainless steel interior.
User-Friendly Operation: Features a bright, large LED digital display, easy-to-turn knobs, and a touch control panel.
Convenience Functions: Offers one-touch popcorn, position memory turntable, speedy cooking, multistage cooking, a clock, a kitchen timer, and a mute function.
Pros
Versatility: The 8-in-1 multi-functional capabilities mean that this microwave can serve multiple purposes, from air frying and convection baking to broiling and defrosting, reducing the need for multiple kitchen appliances.
Healthy Cooking Option: The air fryer function allows for healthier fried food preparations, offering dishes with reduced fat while retaining the original taste.
User-Friendly Features: With a large LED digital display, easy-to-turn knobs, a touch control panel, and various convenience functions like one-touch popcorn and a mute function, the microwave is designed for easy and intuitive use.
Cons
Space Constraints: Even though the internal capacity seems large, the note mentions that the actual space for holding food might be less than the measured internal dimensions. This could be limiting for some large dishes or meals.
Design Sensitivity: The black stainless steel finish, while stylish, might be prone to fingerprints and smudges, requiring regular cleaning to maintain its sleek appearance.
4. COMFEE' Retro Microwave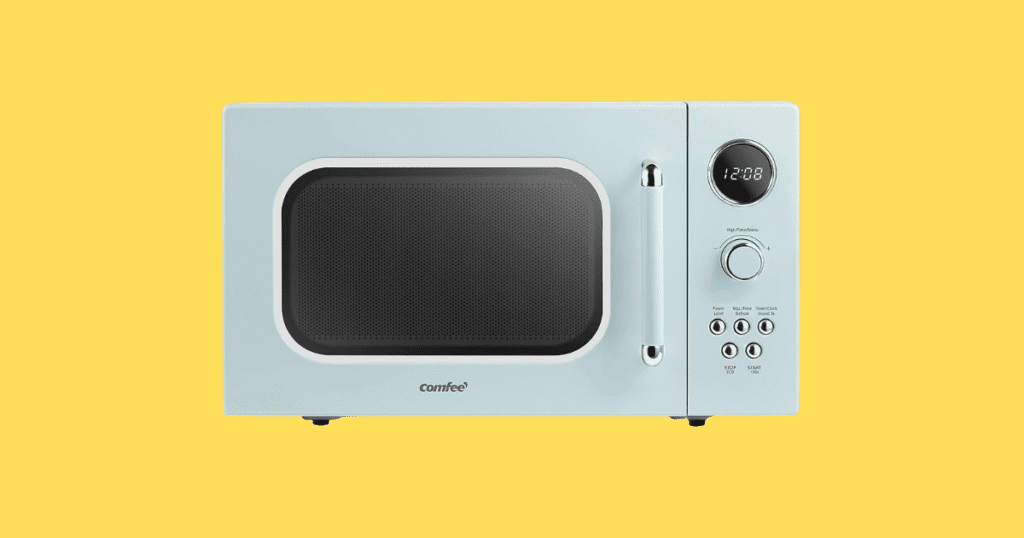 The COMFEE' CM-M091AGN is a 0.9 cu.Ft, 900W retro microwave with modern features such as multi-stage cooking, 9 preset menus, and an LED digital display. It also offers an ECO mode for energy efficiency and a mute function for quiet operation, combining vintage appeal with contemporary functionality.
Just got it in today. This is super cute. Exactly as pictured. And everything I was hoping for.
– Ky
Specifications & Features
Retro Design: A fun retro aesthetic that complements modern kitchen interiors.
Preset Menus: Comes with 9 preset cooking menus – popcorn, beverage, vegetable, meat, pizza, potato, pasta, soup, and reheat.
Multi-stage Cooking: Allows defrosting and cooking in a single step.
Express Buttons: Provides quick 30-second cooking or increments at full power.
Mute Function: Enables silent operation without audible alerts.
ECO Mode: Energy-saving mode to conserve electricity.
Display & Controls: Bright LED digital display and an easy-to-use control panel.
Additional Features: Includes an interior light, removable glass turntable, clock & kitchen timer, and child safety lock for added security.
Pros
Versatility in Cooking: With 9 preset menus and a multi-stage cooking function, the microwave offers various cooking options, from defrosting to reheating.
Eco-Friendly Features: The ECO Mode ensures energy conservation, making it an Eco-friendly choice for households.
Safety & Convenience: The microwave boasts user-friendly features such as a bright LED digital display, mute function, and a child safety lock to ensure safe usage.
Cons
Retro Design Limitations: While retro adds a unique aesthetic appeal, it might not seamlessly fit into ultra-modern kitchen decors.
Lack of Advanced Features: This model might seem basic for tech-savvy users or those looking for advanced microwave technologies (like sensor cooking or inverter technology).
5. Panasonic Microwave Oven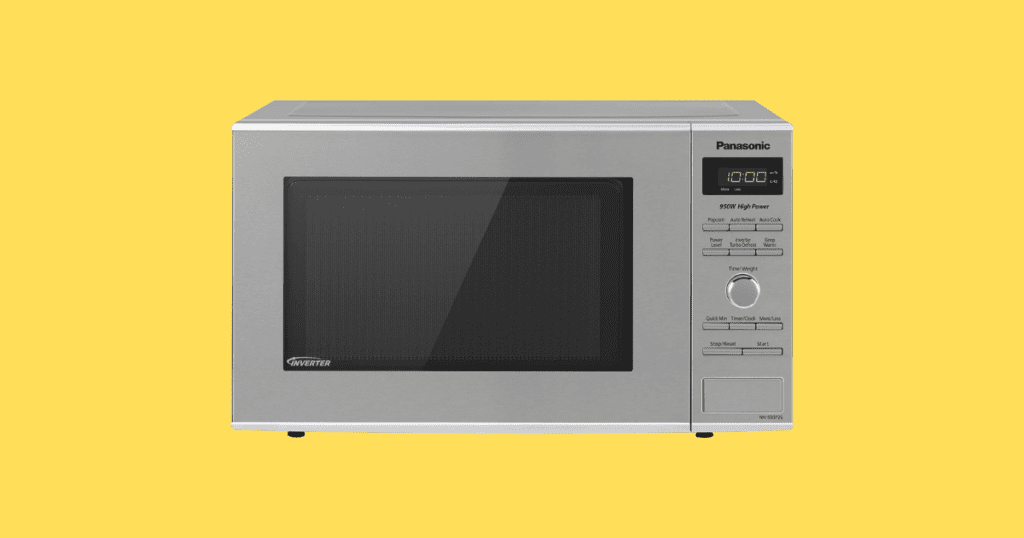 The Panasonic Microwave Oven NN-SD372S is a versatile countertop or built-in kitchen appliance crafted with sleek stainless steel. With its advanced Inverter Technology, this 0.8 cubic foot oven ensures consistent cooking power, resulting in evenly cooked meals and precision heating. Its standout feature, the Genius Sensor, automatically adjusts the cooking time and power based on the food's moisture level, taking the guesswork out of microwaving. Its power rating of 950 watts delivers quick and efficient performance, making it a valuable addition to any modern kitchen.
No buttons, easy-to-use dial knob. Advanced proportional to the speed you turn the knob.
Good heat dispersion, easy to clean.
– Ortho B
Specifications
Model: Panasonic Microwave Oven NN-SD372S
Power Rating: 950 watts
Capacity: 0.8 cubic feet
Material: Stainless steel
Placement: Countertop/Built-in
Features
Inverter Technology: This patented feature ensures a seamless stream of power, resulting in evenly cooked food without the risk of overcooking.
Turbo Defrost: An advanced inverter turbo function significantly speeds up defrosting.
Design: Compact and efficient, it features an 11 1/4-inch turntable. Despite its slim profile, it prioritizes internal capacity.
Internal Dimensions: 8 1/8 inch in height x 12 3/8 inch in width x 13 7/8 inch in depth.
Genius Sensor: A smart feature that automatically adjusts cooking power and timings based on the type of food.
Additional Features:

Preset menu items for quick cooking.
Quick minute timer for added convenience.
Delay start function.
Child safety lock to ensure children don't operate the microwave unsupervised.

Keep Warm Feature: Allows the microwave to keep dishes like soups, gravies, or desserts warm and fresh until you're ready to serve.
Power Source: 120V, 60Hz.
Pros
Inverter Technology: Ensures a consistent and seamless stream of power, offering evenly cooked meals without overcooking, which often isn't found in standard microwaves.
Compact Yet Spacious Design: Despite its compact outer dimensions, the microwave prioritizes its internal capacity, making it an efficient choice for those with limited countertop space but needing substantial cooking.
Genius Sensor: Takes the guesswork out of cooking by automatically adjusting power and cooking times based on the type of food, leading to more accurate and optimized cooking results.
Cons
Fixed Power Source: With its power source fixed at 120V, 60Hz, it might not be suitable for regions or countries with a different standard voltage, restricting its versatility in global markets.
Potential Complexity: With various advanced features and settings, there might be a learning curve for users unfamiliar with such technology, making it potentially overwhelming for some users to utilize all its capabilities fully.
6. Panasonic Commercial Microwave Oven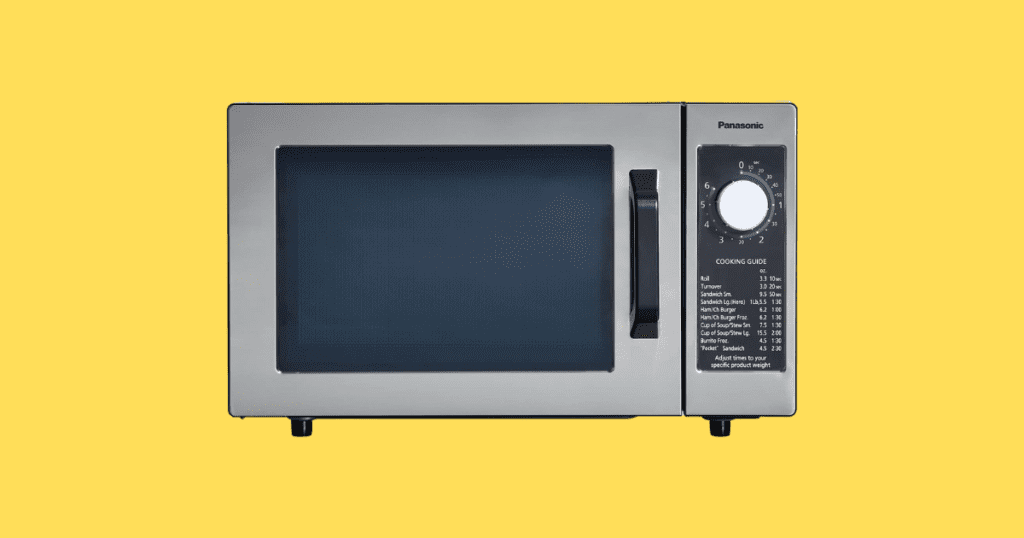 The Panasonic NE-1025F is a compact, light-duty countertop commercial microwave oven designed for efficiency and convenience, with a 0.8 cu. Ft. capacity, it is suitable for various cooking needs. The microwave features a 6-minute electronic dial control timer, ensuring precise cooking times. Its unique bottom energy feed system ensures even cooking, and with a power output of 1000W, it can heat food quickly and efficiently. The microwave's sleek silver finish adds a touch of elegance to any kitchen or commercial space.
My sister is blind, so I got this microwave for her. She likes it. It heats up the food well. I'm so glad to have found it.
– Lacy Vieux
Specifications
Type: Compact Commercial Microwave Oven
Intended Use: Ideal for vending, break rooms, waitress stations, offices, hotels, and cafeterias.
Power: 1000W
Capacity: 0.8-cu. Ft.
Pan Compatibility: Fits 1 half-size, 6-inch deep steam table pan/cover.
Energy System: Bottom energy feed system for fast cooking results. Energy travels a shorter distance to the food, ensuring increased heating efficiency.
Door: Stainless steel door with a "Grab & Go" handle for durability and ease of use.
Features
Compact Design: The microwave is designed to occupy minimal space, making it perfect for countertops or tables.
Versatile Usage: It's ideal for various settings such as vending locations, break rooms, waitress stations, offices, hotels, and cafeterias.
Bottom Energy Feed System: This unique system ensures faster cooking results. The energy has to travel a shorter distance to reach the food, which increases heating efficiency.
High Power: A 1000W power output can heat food quickly and efficiently.
Ample Capacity: The 0.8-cu. Ft. capacity can accommodate a half-size, 6-inch deep steam table pan/cover.
Durable Door: The microwave features a stainless steel door with a "Grab & Go" handle, ensuring longevity and ease of use.
Visibility Features: It comes with a see-through oven door and an interior light, allowing users to monitor the cooking process.
Pros
Efficient Heating: The bottom energy feed system ensures faster and more efficient cooking results as energy travels a shorter distance to reach the food.
Versatile and Compact: Its compact design is perfect for various settings like break rooms, offices, and hotels without taking up much space on countertops or tables.
Enhanced Security: The microwave has an anti-theft component, making it suitable for commercial settings where security might be a concern.
Cons
Limited Capacity: While the 0.8-cu. Ft. capacity is decent, but it might not be sufficient for larger cooking tasks or settings with high-volume cooking needs.
Dial Timer Limitation: The 6-minute electronic dial timer might be limiting for dishes that require longer or more precise cooking times.
My TOP PICK Is The Sharp Medium-Duty Commercial Microwave Oven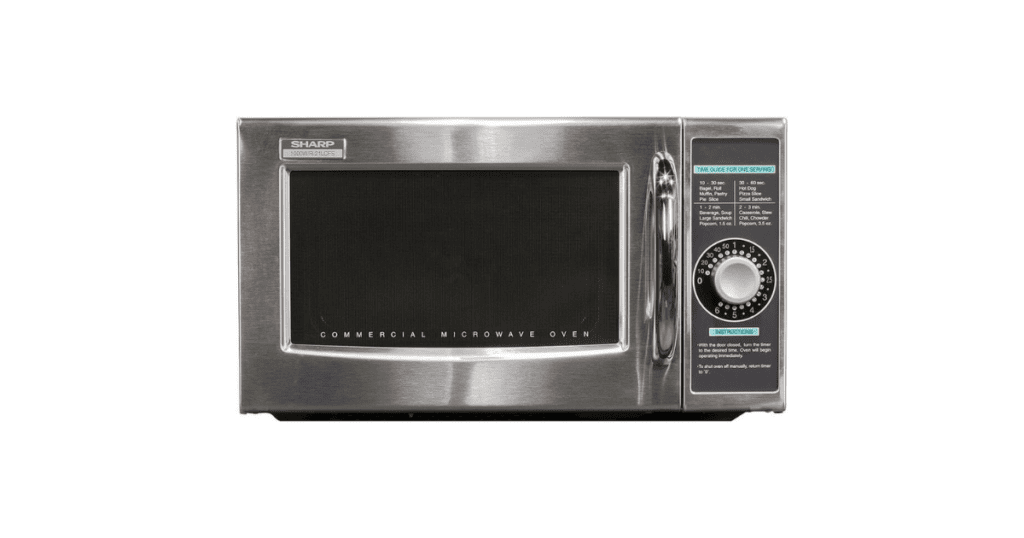 In today's fast-paced world, the kitchen has seen a surge in innovative appliances designed to simplify our lives. Among these, microwaves stand out as a staple. The 'Sharp R-21LCFS Medium-Duty Commercial Microwave Oven' is my top pick for the Best Easy To Use Microwave.
Its straightforward dial control sets it apart, eliminating the complexities of multiple buttons. This feature makes it a breeze for anyone, from tech-savvy millennials to seniors who prefer the tactile feel of a dial. The 'Sharp R-21LCFS offers precision in microwave cooking without the guesswork.
Its sleek design is not just about aesthetics; the smooth surface ensures easy cleaning, and the sound alerts are pleasant, not jarring. This microwave is a game-changer for those who value efficiency and simplicity in their kitchen gadgets.
This blog post has given insight into why Best Easy To Use Microwaves are so popular and how the Best Simple Small Countertop Microwaves may make things easier. We hope this article will help inspire an idea or two for your kitchen space! If there's anything else we can do to assist in making your life a little bit simpler (or more efficient), please feel free to leave us a comment below.
My Final Thoughts
In the realm of kitchen appliances, simplicity often trumps all. My final thoughts on microwaves gravitate strongly towards those with dials over the ones inundated with many buttons. There's an undeniable charm and efficiency in the straightforwardness of a dial. No more navigating through endless questions or settings when you only want to cook or defrost. Just a simple turn, and like magic, 'ding'—your meal is ready. In a world constantly pushing for more, sometimes less truly is more. If you, like me, yearn for days of uncomplicated cooking, it's time to embrace the dial microwave. Make the switch, and let simplicity guide your culinary adventures.
What makes a microwave "easy to use"?
An easy to use microwave typically has a simple interface, clear buttons, intuitive controls, and straightforward instructions. It might also have presets for common foods, making it easier for users to cook without manually setting the time and power.
What features should I look for if I want an easy to use microwave for reheating leftovers?
Look for a microwave with a reheat button or preset, a clear and readable display, and an easy-to-open door. Some microwaves also come with sensors that can detect the moisture level in food and adjust the cooking time accordingly.
Can I use aluminum foil in the microwave?
No, you should avoid using aluminum foil in the microwave as it can cause sparks and potentially damage the appliance.
Are there microwaves designed specifically for seniors or those with disabilities?
Yes, there are microwaves designed with larger buttons, voice prompts, and tactile features to assist seniors and those with visual or physical disabilities.