So, what are the best Wheelchair Backpacks and Bags? Look for Wheelchair Backpack and Bags that offer quality construction, enough interior bag space, waterproof shells that fit on most wheelchairs and scooters are what make a top wheelchair backpack. Also, look for zip fastenings and smaller pockets to hold your smaller items makes the best bags for a wheelchair.
Best wheelchair backpacks (guides and reviews)
Why You Should Get Wheelchair Backpack
Wheelchair Backpacks are one of those essential accessories, in our opinion. They are needed to carry your stuff with you while providing a safe and easy way to get to books, snacks, jackets, blankets, or anything else you would want to carry with you while in your wheelchair. The best wheelchair backpacks come in a wide variety of styles that can suit almost anyone's needs.
What to Look for When Buying a Wheelchair backpack
Everyone has different preferences on what is important or not when deciding on a wheelchair backpack. Still, I want to offer my opinion on the most important things that the wheelchair backpack should have.
Look for a WaterProof wheelchair backPack.
Waterproof bags are recommended, in our opinion. Especially when you carry any electronic device or camera and want to ensure these types of content stay dry. You never know when a quick-moving storm can pass, leaving your bag soaked. A lot of the top wheelchair backpacks have at least an outside waterproof shell.
Look for the right Size Wheelchair Backpack.
You will want to look for a backpack that can hold essentials like a jacket, blanket, laptop, water bottles, keys, phones, and more. There should be, in our opinion, at least one large pocket for larger stuff and a few smaller pockets with zipper systems in place to keep your stuff secure.
Choosing a too-small bag can limit the amount of stuff you can carry and may also eliminate important things you will find yourself needing. I chose to get a bag that is at least large enough to carry important things, so you have them with you.
Look for Wheelchair Backpacks that keep your stuff Secure
The entire point of getting a wheelchair backpack is to keep your stuff safe, the ability to carry that stuff, and to be able to mount that backpack on your wheelchair easily. The looping strap system enables you to loop the pack onto almost any wheelchair, electric chair, walker, and more.
Almost all of the packs reviewed above have a looping system that is put overgrips to secure the bag in transport.
Wheelchair Backpacks Product Reviews
Here are the reviews of the Best Wheelchair Backpacks and Bags
1. The DMI Wheelchair Bag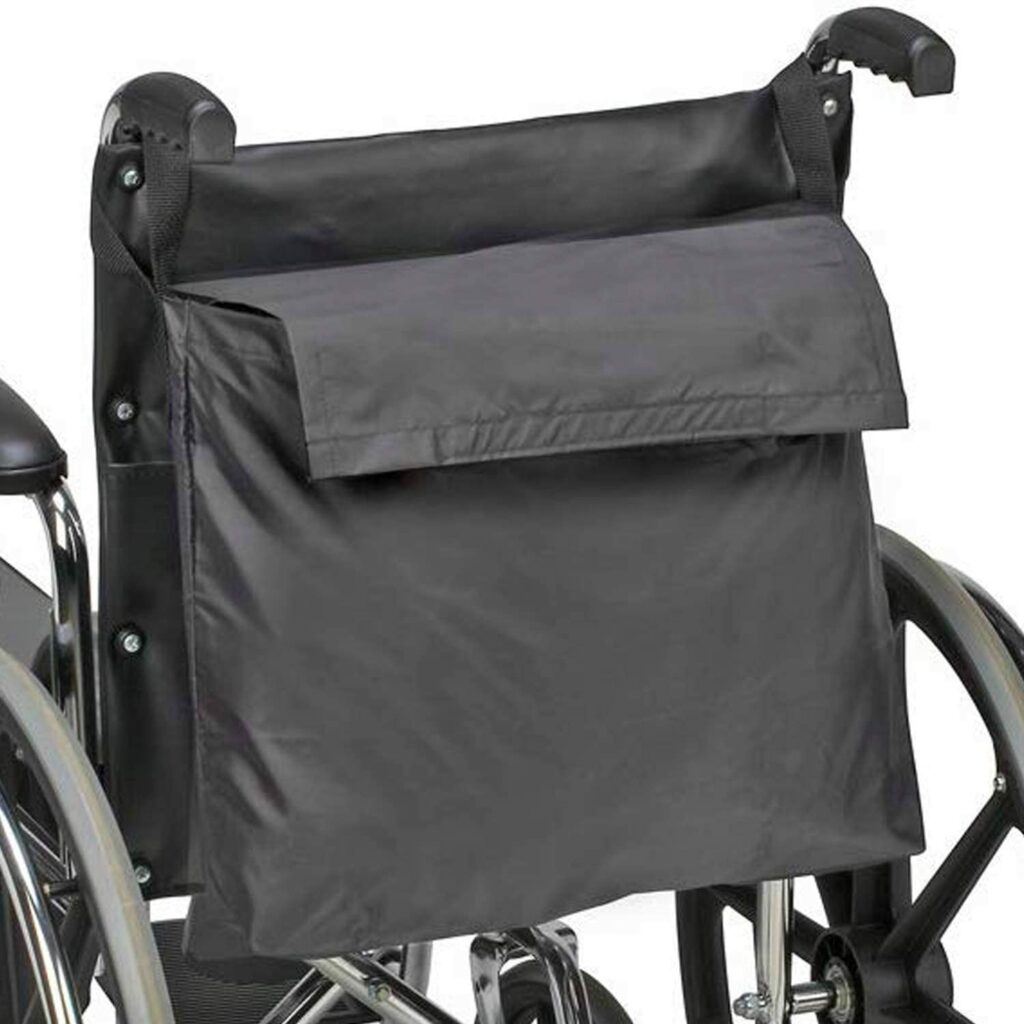 DMI Wheelchair Bag is a hands-Free Wheelchair Bag: Large 14 by 19 Inch Wheelchair Storage With Hook and Loop Closure Enables You to Easily Carry Multiple Items Like Purses, Glasses, Phones, Water Bottles, Groceries, Medical Supplies, and More Wheelchair backpack attaches easily on the back of your wheelchair with flexible and stretchable slip-on straps Durable, lightweight, and waterproof black oxford nylon fabric is strong but lightweight.
Pros
Water resistance
Easy to clean
Easy to fold
Cons
Not Durable.
Flimsy
Does not secure well to the handles
---
1. KROSER Travel Laptop Backpack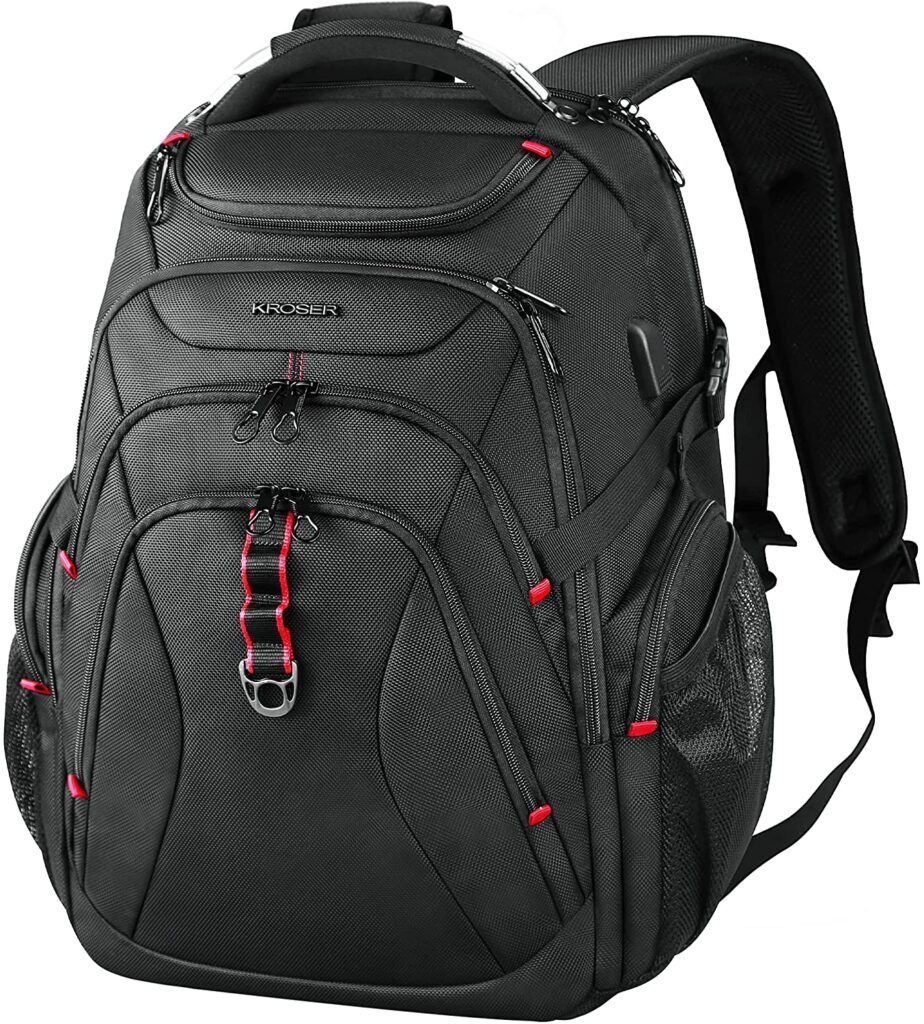 KROSER Travel Laptop Backpack travel backpack with separated compartments and pockets can provide roomy space for your computer, iPad, power bank, A4 files, wallet, pens, cards, clothes, and more items. A zippered pocket and a mesh one at each side can hold your umbrella, water bottle, etc. A sunglass hard shell zone is designed on the top, which is convenient and safe for you to put your sunglass, cell phone, etc.
Pros
Storage Capacity
Sturdiness
Light weight
Cons
Doesn't fit large laptops
Doesn't hold heavy items
Poor Stiching
1. Handy Bag Dynamic Wheelchair Backrest Pack
---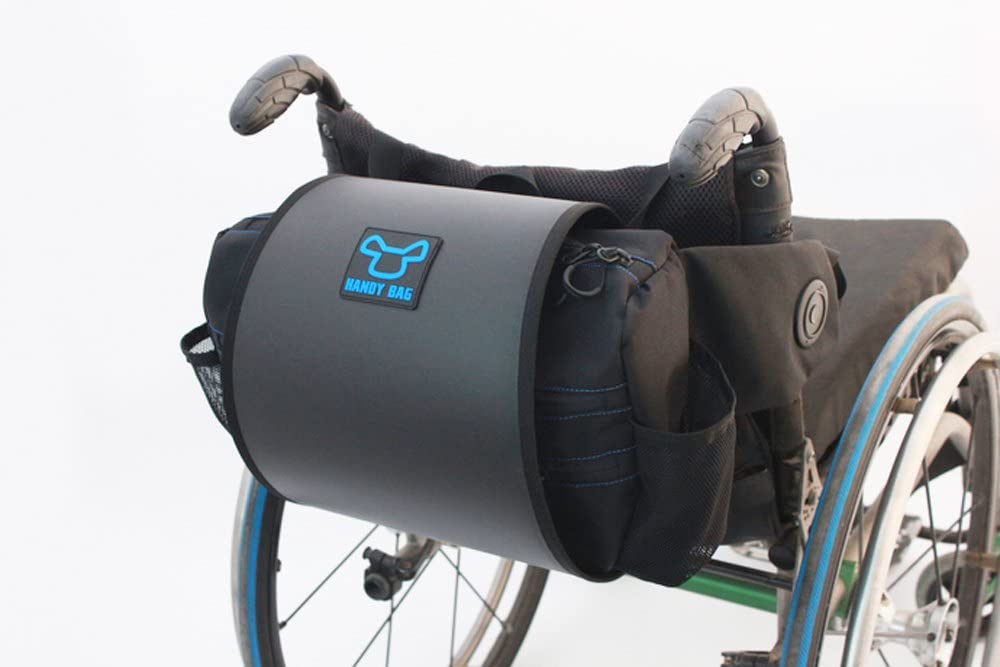 The Dynamic Bag from Handy Bag is completely different from normal backpacks and built specifically for wheelchair users. The Dynamic Bag is held within a Carrier that's made of plastic. The bag is easy to fully remove from the Carrier and place on your lap while seated in a wheelchair.
The Dynamic Bag has two side zipper pockets, 3 separate compartments with zipper closures, and two mesh water bottle holders. The Dynamic Bag is held inside the Carrier by two magnetic one-way latches. This ensures that your bag won't detach.
Pros
Secure Attachment
Hard shell for security
Detachable Bag
Cons
Small
Might hard to get into
Only comes in black
---
FAQ's About Wheelchair Backpacks
Here are some commonly asked questions about Wheelchair Backpacks
Does it have padding on the bottom to prevent damage to the laptop?
This is very important to make sure your laptop is safe and secure from damage. Backpacks need to be well padded and easy to get into.
How big of a water bottle can it hold?
Hey, if the backpack can't hold a big enough water bottle to keep you hydrated through the day, then it's not for you.
How many pockets/compartments does this bag have?
Storage is key. Making sure the Backpack has enough pockets to hold everything you need throughout the day is important.
Conclusion
In our opinion, a bag should not stay on a shelf. It should be used, stuffed full of your favorite items, taken on vacations, school, the store, or wherever you are going. To make this possible, wheelchair backpacks and bags must be as functional as possible. Their construction has to be well made, so they are easy to attach and easy to access. Their simplicity has to be compatible with many different types of wheelchairs. 'But I also want something that looks good!', you might think. Not to worry: functionality does not exclude style. Wheelchair Backpacks and Bags are not only easy to use but also easy on the eyes. Wheelchair Backpacks users are characterized by their fresh, contemporary designs and urban feel.