In my experience, a compact under counter fridge has been invaluable, both in my small apartment and when I had a larger kitchen. It's been perfect for storing those extra items or for grabbing ingredients quickly while I'm cooking. I've come across models specifically designed for cooling drinks, while others have been perfect for keeping my wine at just the right temperature. What's more, I've noticed that many of these fridges prioritize inclusivity, with several being compliant with the Americans with Disabilities Act (ADA).
With so many options out there, finding the best under counter fridge that offers both functionality and value has been a challenge. It's been essential for me to differentiate between genuine under counter models and those that might not fit the bill. This guide is my attempt to highlight the key considerations for potential buyers and to share some of the top under counter refrigerators I've come across
Benefits Of A Under Counter Fridge
Under-the-counter fridges can offer several benefits for individuals who are disabled, in a wheelchair, seniors, or anyone else. Here are some of the advantages:
Accessibility:
For someone in a wheelchair or with mobility issues, bending down to access a traditional fridge's lower shelves or drawers can be challenging. An under-the-counter fridge is at a more accessible height, making it easier to reach items without straining.
Space-saving:
These fridges are compact and fit seamlessly into kitchen cabinetry. This can be beneficial for those with limited mobility, as it reduces the need to move around the kitchen extensively.
Safety:
Reducing the need to stand on tiptoes or bend down excessively can decrease the risk of falls or strains, especially for seniors.
Energy Efficiency:
Under-the-counter fridges tend to be smaller than standard fridges, which can lead to energy savings. This can particularly benefit those on a fixed income, such as some seniors.
Organization:
Smaller fridges can encourage users to keep their food more organized, making it easier to locate items. This can be especially helpful for those with cognitive impairments or vision issues.
Flexibility in Kitchen Design:
For those who need a customized kitchen to cater to their specific needs, under-the-counter fridges can be integrated into a design that maximizes functionality and accessibility.
Additional Refrigeration:
For those who have a primary fridge but need extra storage that's easy to access, an under-the-counter fridge can serve as supplementary storage for frequently used items.
Temperature Control:
Some under-the-counter fridges come with advanced temperature control features, allowing for specific sections to be set at different temperatures. This can be useful for those who need to store medications at specific temperatures.
Independence:
Having appliances that cater to their specific needs can increase the independence of individuals with disabilities or seniors, reducing the need for assistance in daily tasks.
Aesthetics:
Modern under-the-counter fridges come in various designs and finishes, allowing for a sleek and unobtrusive look in the kitchen.
When considering an under-the-counter fridge for someone with specific needs, it's essential to assess the individual's requirements and the fridge's features to ensure it's the right fit.
How I Went About Choosing The Best Under Counter Fridge
When I set out to choose the perfect under counter fridge, the first thing I did was pinpoint my specific needs. I asked myself: Is this fridge mainly for beverages, wines, or a mix of items? I also considered where I'd place it—my kitchen, the bar area, outdoors, or perhaps the office—and estimated how much storage space I'd need. Measuring the intended spot was crucial, especially to ensure there was enough room around the fridge for proper ventilation, a must for built-in models.
The type of refrigerator was my next consideration. Would a beverage cooler suffice, or did I need a wine fridge or a general-purpose unit? I leaned towards models with adjustable thermostats and digital displays, valuing precise temperature control. Energy efficiency was high on my list; I looked for the Energy Star rating to ensure long-term savings. I also had my eye out for handy features like locks, adjustable shelves, LED lighting, and glass doors, which not only added functionality but also gave a touch of elegance.
Lastly, I dove deep into customer reviews and even asked friends for their recommendations, aiming to understand the product's real-world performance. I gravitated towards reputable brands, knowing they often promise durability and provide good customer service. Setting a budget was essential, but I reminded myself that the priciest option might not be the best, and the cheapest could compromise on quality. And while I had the choice between freestanding and built-in models, I considered getting a professional for installation to ensure everything ran smoothly.
To Be Considered ADA Compliant, Under The Counter Refrigerator Must Meet The Following Requirements:
Allow parallel approach by a person in a wheelchair with a maximum high side reach of 54 inches for operation.
Be operable with one hand and do not require tight grasping, pinching, or twisting of the wrist.
Require force of less than 5 lbs to activate.
My Top Picks
The following represents what I believe to be some of the best under counter fridges available on the market right now. Organized by category, this list can help me quickly identify the models that best fit my needs.
1. Tylza Refrigerator 24 Inch – My Top Pick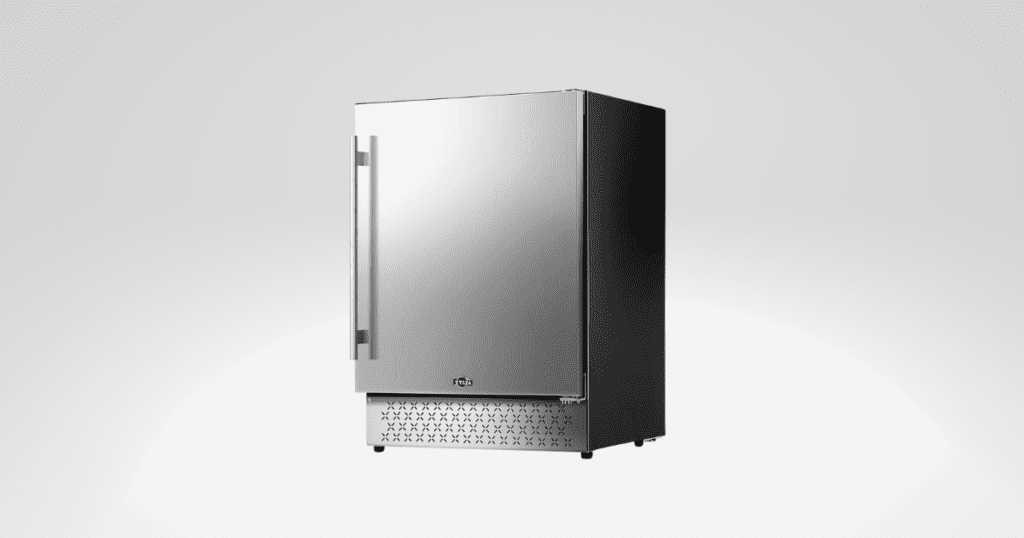 Tylza Beverage Refrigerator TYBC150SD: Elevate your beverage storage with the Tylza Beverage Refrigerator, a perfect blend of style and functionality. This 24-inch refrigerator, with its sleek stainless steel finish, is designed to seamlessly fit into modern kitchens and entertainment spaces. With the capacity to hold up to 190 cans, it ensures your favorite drinks are always chilled to perfection.
The touch control system allows for effortless temperature adjustments, ensuring your beverages are kept at the ideal temperature. Whether you're looking to integrate it into your kitchen cabinetry or use it as a standalone unit, its versatile design caters to both built-in and freestanding installations.
The automatic defrost system takes the hassle out of maintenance, while the soft white ambient light not only enhances its aesthetic appeal but also provides clear visibility of its contents. Moreover, being ADA Compliant, it ensures accessibility for everyone. Invest in the Tylza Beverage Refrigerator, where luxury meets convenience, and never compromise on the quality of your refreshments.
Customer Reviews
The refrigerator is stylish and cools efficiently. It operates quietly and has been reliable for a month. Plus, the vendor offers a 2-year warranty upgrade post-purchase.
– Anthony
Lisa from Tylza's customer service excellently addressed a delivery issue. She ensured all questions were answered and problems resolved. Would buy again!
– Doug
Tylza Beverage Refrigerator TYBC150SD Specs
Specifications
Price: $679.98
Dimensions: 22.63″D x 23.42″W x 34.25″H
Capacity: Holds up to 190 cans
Configuration: Designed specifically for beverages
Energy Star: Energy Star certified
Color: Stainless Steel
Features
Sleek and modern design suitable for various interiors.
Touch control system for easy temperature adjustments.
Designed for both built-in and freestanding installations.
An automatic defrost system ensures minimal maintenance.
White ambient light enhances aesthetic appeal and visibility.
High storage capacity despite its compact size.
ADA Compliant, ensuring accessibility for all.
Benefits
Ample Storage: With the capacity to hold up to 190 cans, it ensures a generous amount of space for a variety of beverages.
Sleek Design: The stainless steel finish gives it a modern and stylish appearance, making it a perfect fit for contemporary interiors.
Energy Efficient: Being Energy Star certified, it operates efficiently, leading to potential savings on electricity bills.
Versatile Installation: Designed for both built-in and freestanding setups, it offers flexibility based on your space and design preferences.
Quiet Operation: The refrigerator functions quietly, ensuring minimal disturbance in any setting.
Proactive Customer Service: The company takes the initiative to check in with customers post-purchase, ensuring satisfaction and offering assistance if needed.
ADA Compliant: This feature ensures that the refrigerator is accessible and user-friendly for everyone, including those with disabilities.
Touch Control System: Allows for easy and precise temperature adjustments, ensuring beverages are kept at the ideal temperature.
Drawbacks
Price Point: Given its features and brand reputation, the refrigerator might be priced higher than some other models in the market, potentially making it less accessible for budget-conscious consumers.
Specific Use: Designed primarily for beverages, it may not be versatile enough for those looking to store a mix of food and drinks or other perishable items.
2. Phiestina Beverage Refrigerator – Best For Beverages
Elevate your beverage experience with the Phiestina Beverage Refrigerator, a harmonious blend of sophistication and functionality. This 24-inch under-counter refrigerator, with its sleek glass door, showcases your collection while ensuring each drink is chilled to perfection. Capable of housing up to 175 cans, it's an entertainer's dream, ensuring you're always stocked for any occasion.
Whether you're integrating it into your kitchen, home bar, or office, its versatile design allows for both built-in and freestanding installations. The auto-defrost feature ensures hassle-free maintenance, while the five removable shelves offer flexibility in organizing your beverages. One of its standout features is its whisper-quiet operation, ensuring your ambiance remains undisturbed. Whether you're a connoisseur of fine drinks or simply love hosting, the Phiestina Beverage Refrigerator is the epitome of class and convenience, making it a must-have for any modern space.
Customer Reviews
Using in a my home office and needed a smaller width fridge and this is perfect and has lots of space for food and drinks.
The beverage cooler arrived well-packaged and was easy to unbox. Installed under the kitchen counter, it was operational within 24 hours, keeping items cold. It enhances the kitchen's look, replacing an old trash compactor.
– John S
Purchased this for our office's drink storage. It's been reliable for 4 months. Pricier than other coolers, but its size perfectly fits our limited space.
– Nicole
Phiestina Beverage Refrigerator Specs And Features
Specifications
Price: $759.99
Dimensions: 22.44″D x 23.4″W x 33″H
Capacity: Up to 175 cans
Door: Clear tempered glass
Cooling System: High-tech compressor and air circulation system
Noise Level: Around 40dB (quiet operation)
Defrosting: Auto defrosting function
Temperature Control: Sensitive memory temperature system (resets to last set temperature after power outage)
Shelves: 6 removable stainless steel shelves for flexible storage
Ventilation: Front vent heat dissipation system (suitable for built-in applications)
Features
Sensitive Memory Temperature Control: In the event of a power outage, the refrigerator will automatically reset to the last set temperature upon restarting. This ensures that your beverages remain at the desired temperature even after unexpected interruptions.
Front Vent Heat Dissipation System: This feature ensures that heat is released from the front of the unit. This design is especially beneficial for built-in applications, as it prevents overheating and promotes efficient cooling.
High-Tech Compressor and Air Circulation System: This advanced system not only ensures efficient cooling but also operates quietly, making it suitable for various environments without causing disturbances.
Flexible Storage Options: With 6 removable stainless steel shelves, you can customize the storage layout to accommodate different sizes of cans and bottles.
Clear Tempered Glass Door: This design element not only adds to the aesthetic appeal but also allows you to easily view the contents without opening the door, helping maintain a consistent temperature.
Benefits
Consistent Cooling: The memory temperature control ensures beverages remain at the desired temperature, even after power interruptions.
Built-in Capability: The front vent heat dissipation allows for seamless built-in installations.
Quiet Performance: Advanced cooling mechanisms ensure the fridge operates with minimal noise.
Adaptable Storage: With 6 removable shelves, you can customize storage to fit various beverage sizes.
Elegant Design: The tempered glass door offers both aesthetic appeal and a clear view of the contents.
Drawbacks
Higher Price: At $759.99, it might be on the pricier side for some consumers.
Beverage-Specific: Its design primarily caters to beverages, limiting its versatility for other storage needs.
Capacity Constraints: While it can hold up to 175 cans, it might not meet the needs of larger commercial settings.
3. Frigidaire Refrigerator – Best Bang For The Buck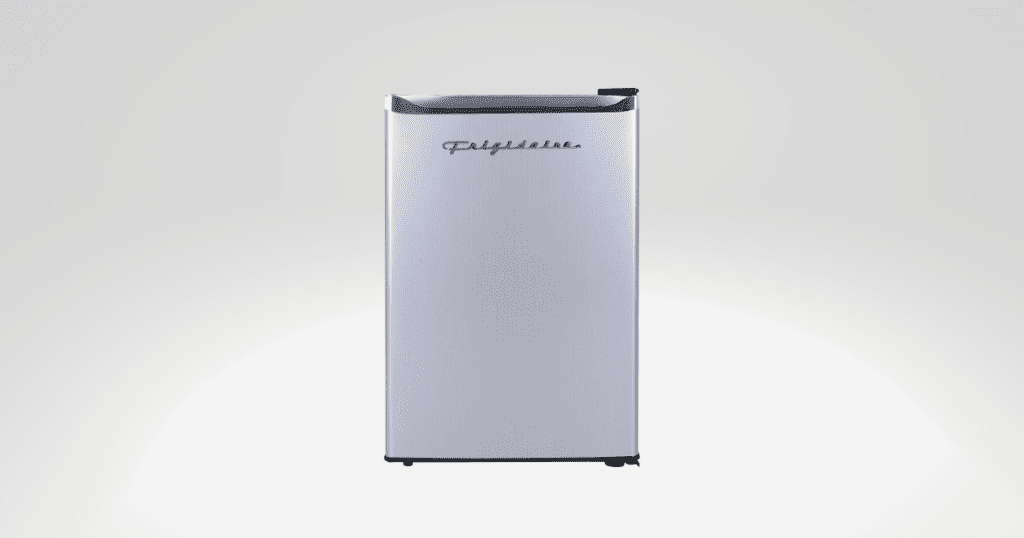 The Frigidaire EFR285-6COM is a compact refrigerator with a 2.5 cu ft capacity. It features a built-in freezer compartment that not only stores frozen items but can also be used to cool items quickly. The refrigerator offers plenty of space to store beverages and grocery items.
It is designed to maximize space and organization with adjustable wire shelving, a built-in can dispenser, and tall bottle storage. Despite its compact size, it's quiet enough to be used in a bedroom or an office. Additionally, it boasts low energy consumption and has a built-in can and bottle holder for drinks.
Customer Reviews
Nice size, looks nice and for a small refrigerator fits quite a lot. Great little refrigerator for a rec room bar
– Evelyn
I bought this mini fridge for drinks. I keep it in the dining room where it's handy. It has lots of room in the door as well as inside
– Wendy
This was a great purchase. We use it to hold soda's mainly and it does a great job of that.
– Frank
Frigidaire Refrigerator Specs And Features
Specifications
Price: $199.99
Dimensions: 18.5″D x 21″W x 28″H
Capacity: 2.5 Cubic Feet
Configuration: It comes with an internal freezer.
Energy Star: Not Energy Star certified.
Color: Stainless Steel
Features
Compact design suitable for limited spaces.
Built-in freezer compartment for storing frozen items.
2.5 cu ft capacity provides ample space for beverages and groceries.
Adjustable wire shelving, a built-in can dispenser, and tall bottle storage for organization.
Quiet operation suitable for bedrooms or offices.
Low energy consumption.
Built-in can and bottle holder for drinks.
Benefits
Space-Saving Design: Its compact size makes it ideal for small apartments, dorm rooms, offices, or any space with limited room.
Versatility: With a built-in freezer compartment, it offers the convenience of both refrigeration and freezing in one unit.
Organized Storage: Adjustable wire shelving, a built-in can dispenser, and tall bottle storage ensure that everything has its place, making it easier to locate items.
Energy Efficiency: Despite not being Energy Star certified, it boasts low energy consumption, which can lead to savings on electricity bills.
Quiet Operation: Its quiet functioning ensures minimal disturbance, making it suitable for environments like bedrooms or offices where noise can be disruptive.
Stylish Appearance: The stainless steel door gives it a modern and sleek look, allowing it to blend seamlessly with various interior decors.
Easy Accessibility: The built-in can and bottle holder provides quick and easy access to drinks, especially when you're on the go.
Durability: Being a product of Frigidaire, a reputable brand, it promises longevity and reliable performance.
Drawbacks
Limited Capacity: With a 2.5 cu ft capacity, it might not be sufficient for those who need to store a large amount of food or beverages, especially for extended periods.
Not Energy Star Certified: While it has low energy consumption, it's not Energy Star certified. This might mean it's not as energy-efficient as other models that have this certification.
No Advanced Features: Unlike some modern refrigerators, it lacks advanced features such as digital temperature controls, smart connectivity, or humidity-controlled compartments.
4. Yeego Wine Cooler – Best For Wine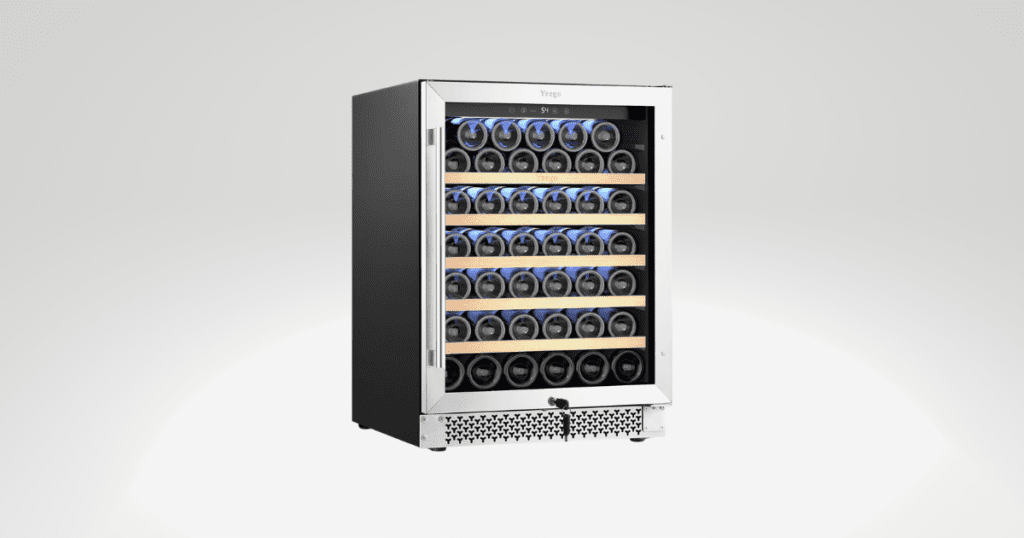 The Yeego Wine Cooler—a wine enthusiast's dream come true. Spanning 24 inches, this state-of-the-art wine fridge can effortlessly house up to 52 bottles, ensuring that your prized collection, from standard to large bottles, is stored with utmost care.
Powered by a professional-grade compressor, the Yeego Wine Cooler promises a consistent temperature, safeguarding the integrity of every bottle. Say goodbye to disruptive humming, as this cooler operates with minimal noise, making it perfect for any setting—be it your home, office, or bar.
Whether you're looking to integrate it into your kitchen cabinetry or let it stand alone, its sleek design ensures it complements any space. Elevate your wine storage experience with the Yeego Wine Cooler and serve every bottle at its best
Customer Reviews
The two zones of cooling are one of my favorite things about this wine fridge. It's very quiet and looks amazing.
– Greg
The only drink fridge that we found that keeps drinks cold as well as a large fridge.
– Jeff
We loved everything, sits perfect, temperature is perfect, easy to put together, packaged perfect and arrived early!
– AJones
Yeego Wine Cooler Specs And Features
Specifications
Price: 699.99
Dimensions: 22.4″D x 23.4″W x 32.3″H.
Installation Type: Can be used as a tabletop or built-in.
Number of Doors: 1.
Shelf Type: Wood.
Cooling Method: Compressor.
Lock Type: Key.
Adjustable Temperature Control: Yes.
Features
UV-Blocking Double Tempered Glass Door: This ensures that the wine is protected from harmful UV rays which can degrade and prematurely age wine.
Active Charcoal Filtration System: This is not commonly found in all wine coolers. It ensures that the air inside remains pure and free from unwanted odors, preserving the wine's taste and aroma.
Blue LED Interior Lighting: Not only does this add to the aesthetic appeal, but LED lights also produce less heat than traditional bulbs, ensuring the temperature inside remains consistent.
Benefits
Optimal Storage: With a capacity of 52 bottles, it's suitable for wine enthusiasts with a growing collection.
Consistent Temperature: The professional-grade compressor ensures wines are stored at their ideal temperatures, preserving their flavor and aroma.
UV Protection: The double tempered glass door protects wines from harmful UV rays, which can degrade wine quality.
Quiet Operation: A noise level of ≤38dB ensures minimal disturbance, making it suitable for quiet environments like homes or offices.
Odor-free Storage: The active charcoal filtration system ensures the air inside remains pure, preserving the wine's taste.
Versatile Installation: Can be freestanding or built into cabinetry, offering flexibility in placement.
Aesthetic Appeal: Blue LED interior lighting adds a touch of elegance and makes it easy to view the wine selection.
Safety: Comes with two key locks to prevent unauthorized access.
Drawbacks
Space Requirement: At 24 inches, it might be too large for smaller spaces or apartments.
Energy Consumption: Compressor-based coolers might consume more energy compared to thermoelectric ones.
Price: Professional-grade wine coolers with advanced features tend to be pricier than basic models.
5. ICEJUNGLE Refrigerator – Best Drawer
Elevate your kitchen or outdoor space with the ICEJUNGLE Under Counter Refrigerator. Crafted with a sleek stainless steel finish, this under-counter drawer fridge is the perfect addition to any modern home or outdoor setting.
Designed for convenience and efficiency, it offers ample storage space for your beverages and other essentials. The digital display ensures you can easily monitor and adjust the temperature settings, ensuring your drinks and food items are kept at the optimal temperature.
Whether you're hosting a barbecue, entertaining guests, or simply want a premium cooling solution for your home, the ICEJUNGLE Under Counter Refrigerator is the ideal choice.
Client Testimonials
The Two refrigerator drawers are awesome!! We have had this refrigerator for a year and we absolutely love it.
– Leigh
In my built in cabinetry the noise level is very low. Even 5ft away it's almost impossible to tell when the compressor turns on. The soft close drawers are classy and work very nicely to ensure that they are fully closed.
– Chris
Love this refrigerator. We use it for our sandwiches. Fast access, don't have to open a full door every time, temperature control is great. High quality, quiet and looks classy.
– Debra
ICEJUNGLE Under Counter Refrigerator Features And Specs
Specifications
Price: 1469.99
Product Dimensions: 23.6″D x 23.6″W x 34.2″H
Brand: ICEJUNGLE
Capacity: 5.3 Cubic Feet
Configuration: Side-by-Side
Special Features: Inverter Compressor, Door Lock
Installation Type: Under counter
Number of Doors: 2
Defrost System: Automatic
Voltage: 110
Features
Precised Digital Temperature Controls & Outdoor Use: The refrigerator allows you to store your beverages in optimal conditions. It features a digital touch blue LED display with a temperature range from 32℉-72℉. The electronic thermostats provide accurate temperature control. The stainless steel exterior offers waterproof, anti-high temperature, and dust proof functions.
Quiet Cooling System: The refrigerator boasts a superior compressor-based chilling system. It operates under 39db, ensuring minimal noise. The refrigerant used is environmentally friendly, ensuring no damage to the ozone layer.
Large Capacity: Despite its compact size, this fridge can hold up to 160 cans. Its dimensions are 24.6″ Wx23.6"Dx34.2"H, with a capacity of 5.3 cubic feet, making it suitable for various spaces like dormitories, homes, bars, RVs, apartments, garages, or offices.
Stainless Steel Slide-Out Double Drawer with Divider: The refrigerator features a double drawer design, providing more storage than traditional side-by-side refrigerators. It includes a divider in the main section and a sliding drawer to help organize the internal space.
Safety Features: The fridge comes with an automatic door-closing function, lights that turn on when the door is opened, and alarms for high and low temperatures.
Benefits
Versatile Use: Suitable for both outdoor and indoor settings, making it a flexible choice for various environments.
Digital Display: Allows for precise temperature control and monitoring.
Large Capacity: Despite its compact size, it can hold a significant number of beverages, making it ideal for parties and gatherings.
Stainless Steel Design: Offers a sleek and modern look, complementing most decor styles.
Safety Features: Automatic door closing, temperature alarms, and interior lighting enhance user safety and convenience.
Environmentally Friendly: Uses a refrigerant that doesn't harm the ozone layer.
Drawbacks:
Drawbacks
Space Requirement: Being an undercounter unit, it requires a specific installation space which might not be available in all settings.
Price: Premium features might come with a higher price tag compared to basic models.
Maintenance: Stainless steel, while elegant, might require regular cleaning to maintain its shine and prevent fingerprints.
---
My All Around Top Pick
Why I Chose The Tylza Refrigerator
After careful consideration and evaluation of numerous beverage refrigerators, the Tylza Beverage Refrigerator TYBC150SD" stood out as my top pick. What truly sets this refrigerator apart are its outstanding features, which cater to a wide range of needs.
Not only does it boast advanced cooling technology and ample storage capacity, but its ADA compliance ensures that it's accessible and user-friendly for everyone.
This commitment to inclusivity, combined with its superior functionality, makes the Tylza Beverage Refrigerator a standout choice for those seeking both quality and accessibility in their home appliances
Why Trust Me
In my 30 years of experience in the construction industry, I've seen a myriad of home innovations designed to enhance the quality of life for residents. Among these, under-counter fridges stand out as a particularly thoughtful and inclusive choice.
Not only do they offer easy access and convenience for the general public, but they also cater to the unique needs of individuals with disabilities, seniors, and others who may face mobility challenges.
As a caregiver to my 102-year-old father, I've personally witnessed the importance of creating spaces that are both functional and accommodating. Under-the-counter fridges are more than just a space-saving solution; they represent a commitment to ensuring that every individual, regardless of their physical capabilities, can navigate their home with ease and independence
FAQ's
What Makes An Under Counter Fridge ADA-Compliant?
If you're looking for an ADA-compliant under-counter refrigerator that will fit your 11/2-inch thick or 2-inch depth of countertop, then we've got just what you need. These refrigerators can be found with dimensions ranging from 32″ high up to 41″.
How energy-efficient are under counter fridges?
Energy efficiency varies by model and brand. Look for Energy Star ratings or other energy efficiency certifications to gauge the appliance's energy consumption.
Are under counter fridges accessible for wheelchair users?
Yes, under-counter fridges are typically at a height accessible for wheelchair users. However, it's essential to check the height and handle placement to ensure easy access without straining.
Are under-counter fridges noisy?
Noise levels depend on the model and its cooling mechanism. Compressor-based models might be slightly noisier than thermoelectric ones. Checking customer reviews can provide insights into the noise levels of specific models.
Do these fridges come with easy-to-open doors for those with limited hand strength?
Some models come with easy-grip handles or push-to-open features, making them suitable for individuals with limited hand strength. It's advisable to check the door mechanism before purchasing.
Are there fridges with clear, large digital displays for those with visual impairments?
Yes, some under-counter fridges come with large, clear digital displays that show the current temperature, making it easier for individuals with visual impairments to read.
More ADA Articles Here