Choosing a microwave oven with simple controls with dials and knobs isn't easy in today's hi-tech world. Big deluxe microwaves with lots of buttons and plenty of bells and whistles can be confusing when all you want is a great meal or reheat leftovers. Here are the 5 best countertop microwaves for best cooking performance. So let's go and find out which is the best countertop microwave oven!
That is why finding the best and most uncomplicated and straightforward microwave ovens is a great help to the elderly and seniors. In addition, microwaves are safer than conventional stoves for seniors and disabled people, especially those who live alone. But what are the best Microwaves for the Disabled, Elderly, and Seniors to use? Below are my 5 best picks for Microwaves for easy cooking let's take a look.
Why You Should Get a Simple Countertop Microwave
]If you're disabled, senior (or know someone who is), and want to cook with less hassle, a countertop microwave can be an excellent investment. With this type of appliance, there's no need to stand on your feet for long periods of strain yourself to reach the oven or stovetop. All you have to do is find a spot that works for your kitchen and plug it in! If you've been looking at microwaves but aren't sure what would work best for your needs, read on as we go over some things about countertop microwaves that might help you decide if they're right for you.
What to Look for When Buying Simple Countertop Microwave
Everyone has different preferences on what is essential or not when deciding on a Simple Countertop Microwave. Still, I want to offer my opinion on the most critical thing that the Simple Countertop Microwave.
Look for size, ease of use, and how much money you want to spend
Depending on what features matter most to you will determine which model is best for your needs. A simple countertop microwave with essential functions may be all that you require, so keep this in mind when shopping around as well!
Look for convenience
The convenience of a microwave is that we can heat up our food quickly and easily without using an oven or stovetop, but microwaves come with their own set of challenges. If you are looking for a countertop microwave, there are many things to consider before purchasing.
Look for Sensor Cook Controls
These allow you to set cook times based on the food type and amount without having to enter the minute-by-minute details of how long it will take. This saves time and energy as well as ensures that every dish is cooked perfectly!
---
Commercial Chef Countertop Small Microwave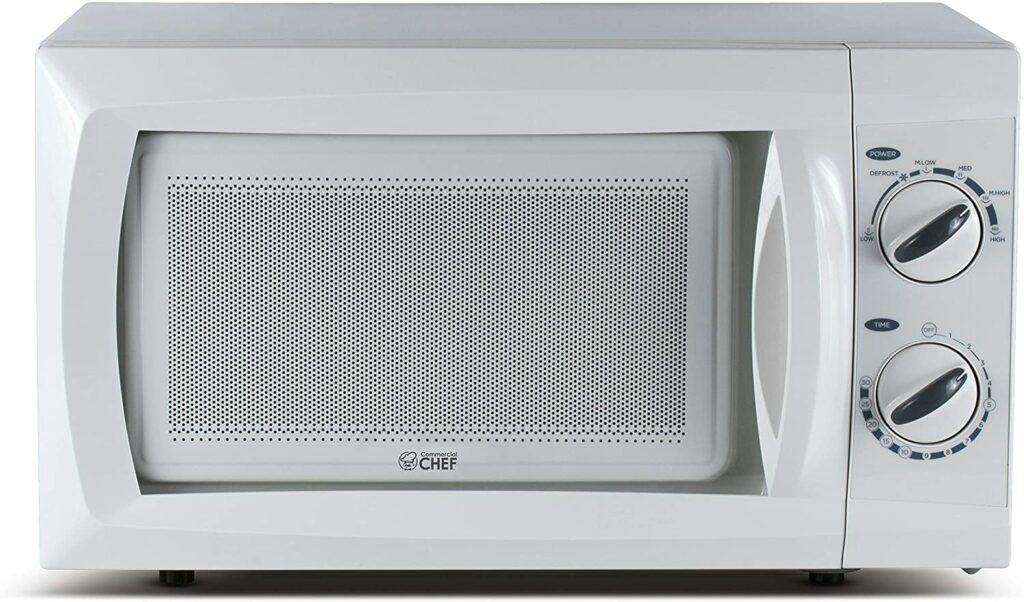 Commercial Chef Countertop Small Microwave Specs
| | |
| --- | --- |
| Material | 18-8 Steel |
| Size | 17.75 x 12.5 x 10.25 inches |
| Color | White |
| Weight | 23.10 lbs |
| Cost | $$ |
| Our Rating | 9/10 |
pros
Small compact design
6 cooking levels
Easily cook, reheat or defrost
9.5″ glass turntable
Cons
Not powerful to cook food fast
Too small for big food items
The dial controls are straightforward to use and especially good for senior citizens, people with vision impairments, or anyone who wants to keep it simple and is looking for an alternative to the electronic controls found on many of today's small appliances. This Microwave has 600 watts of power that is on the low side of microwaves. If you need a more powerful microwave, read on!!
Panasonic Countertop Microwave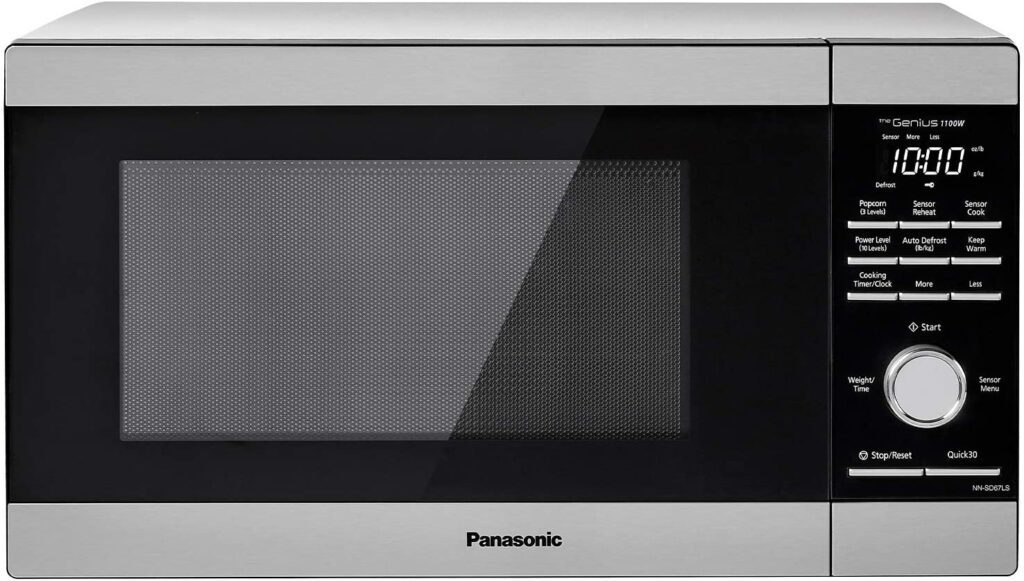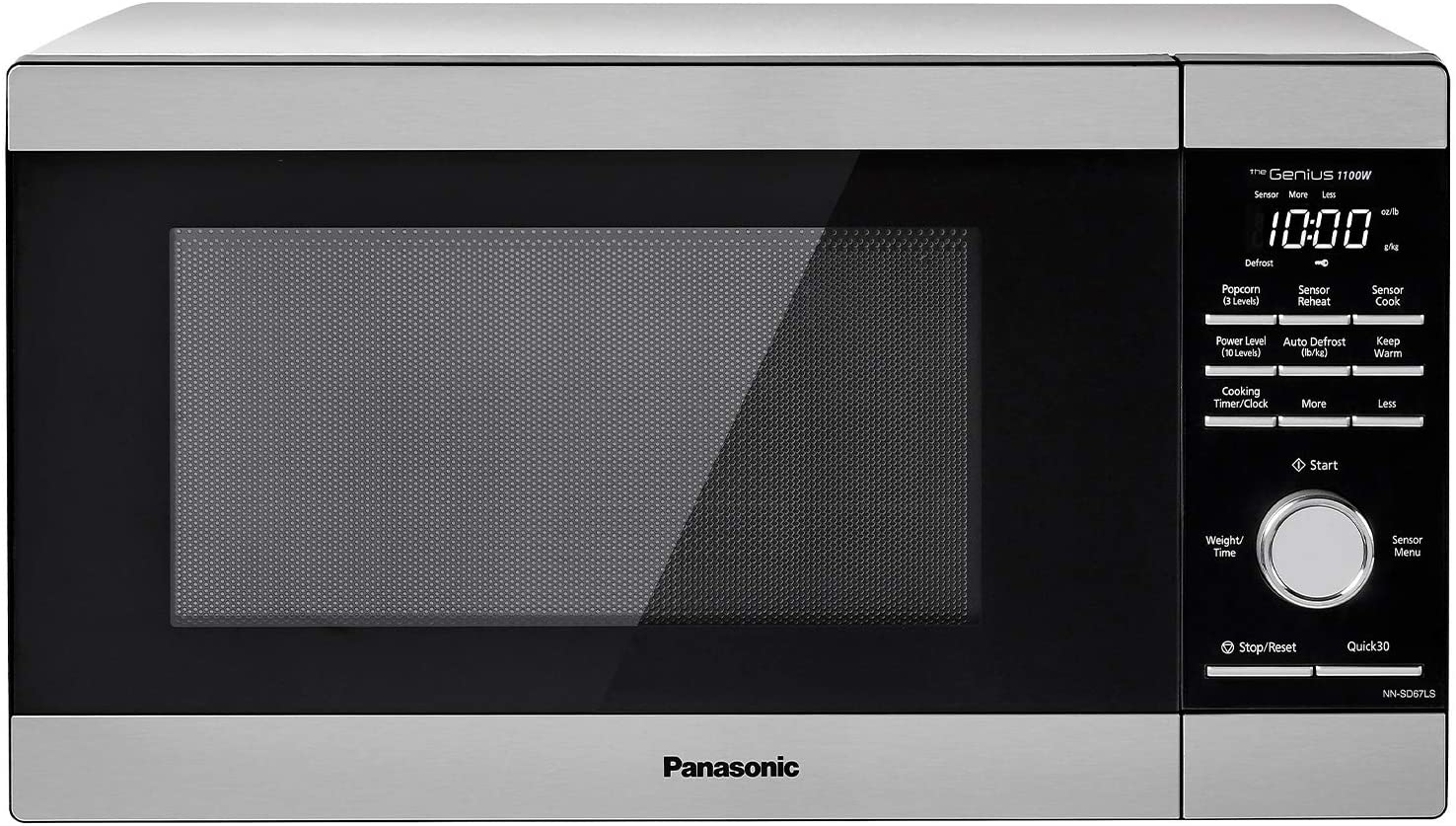 Panasonic Countertop Microwave Specs
| | |
| --- | --- |
| Material | Stainless Steel |
| Color | Silver |
| Weight | 35 Lbs |
| Size | 21 x 12 x 17 |
| Cost | $$ |
| Our rating | 9/10 |
pros
Very easy clean up
Easy to use
Easy Interface
Low Noise Level
Cons
My Not Heat Some Stuff
Buttons hard to press
Fast, Easy, Delicious Results Panasonic's compact 1100 watt microwave is sleek and powerful, with Genius Sensor technology for efficient, even cooking, defrosting, and reheating. Save Time, Save Space Maximum interior cavity with a sleek, minimal exterior footprint. Fits neatly on any countertop. Quick 30 Second Button Perfect Popping 3 power level options Keep Warm Feature.
Panasonic microwave 1250W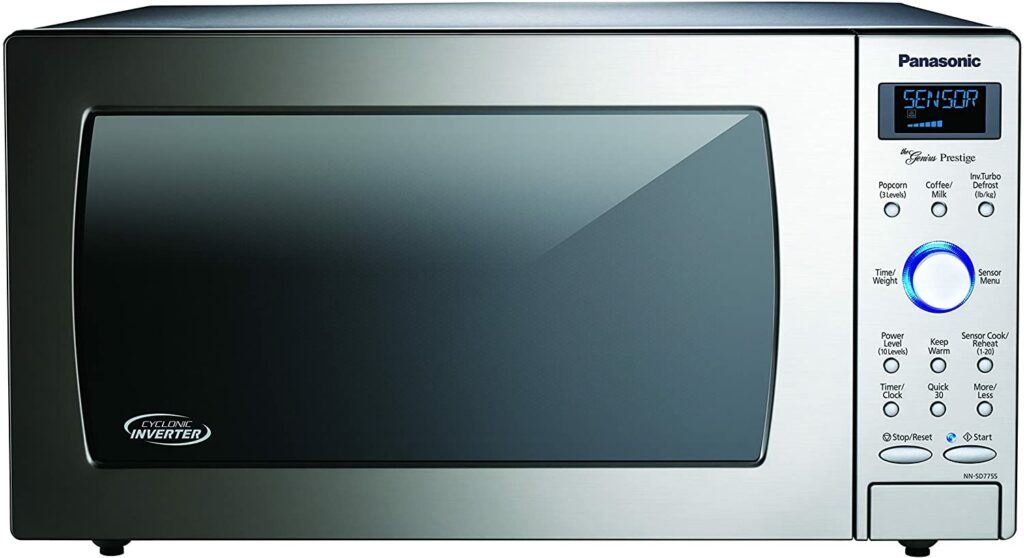 Panasonic Microwave 1250W Specs
| | |
| --- | --- |
| Material | Aluminum |
| Color | Silver |
| Weight | 25Lbs. |
| Size | 1.6 cubic ft. Oven Capacity |
| Cost | $$$ |
| Our rating | 8/10 |
pros
10 Power Levels
Keep Warm Feature
16.5″ Glass Turntable
One-Touch Sensor Cook & Reheat
The Panasonic is a 1.6 Cu. Ft. Countertop Microwave Oven that has 1250 Watts cooking power. Its Inverter Technology delivers constant power that results in no more cold spots or rubbery food. With a blue LED spin dial and preset one-touch cooking controls, heating food becomes fast and straightforward. This Microwave also features multilingual cooking instructions in bright LED, in English, Spanish or French.
COMFEE' Retro Microwave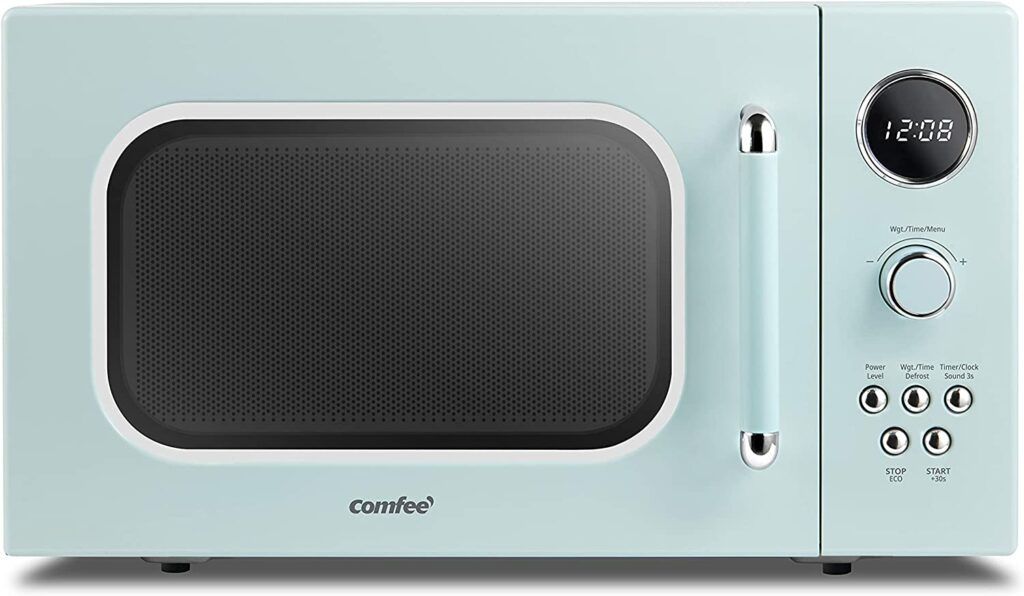 COMFEE' Retro Microwave Specs
| | |
| --- | --- |
| Material | Stainless Steel |
| Color | Green |
| Capacity | 0.9 Cubic Feet |
| Item Dimensions | 19.09 x 15.41 x 11.51 inches |
| Cost | $$ |
| Our Rating | 8/10 |
pros
Easy to clean
Great for small spaces
Easy to use
Beautiful Color
You can now prepare a full meal with just one Microwave! This microwave oven comes in a compact size but can accommodate most common dishes, such as a 10-inch pizza. Cooking can now be intuitively customized. Just press the function button and rotate the selector to choose desired time and power. You can now prepare a full meal with just one Microwave.
Breville the Smooth Wave countertop microwave oven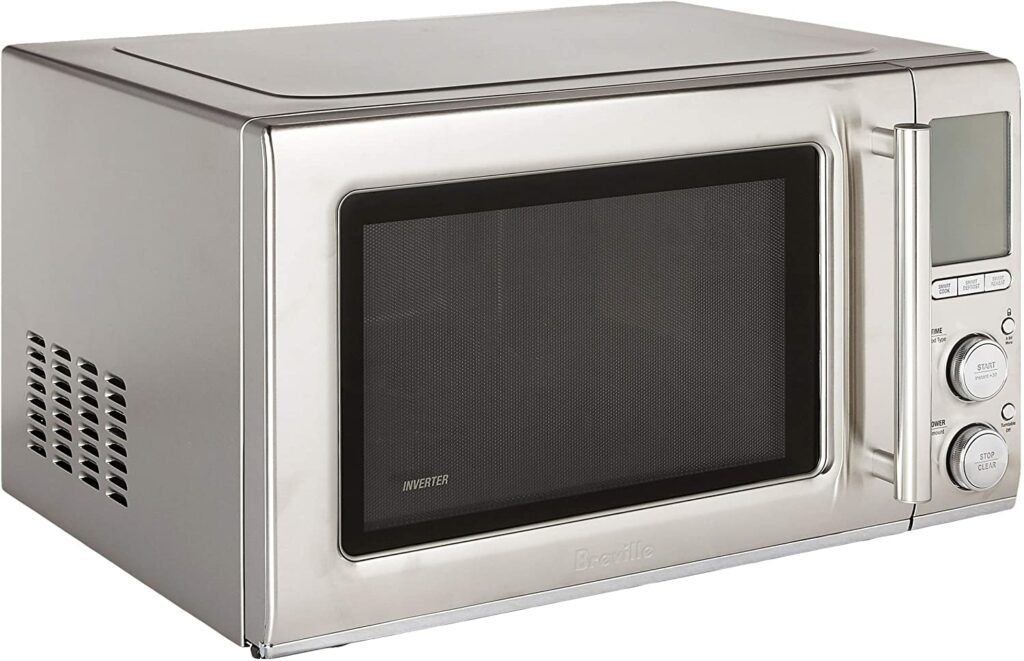 Breville the Smooth Wave countertop microwave oven Specs
| | |
| --- | --- |
| Material | Brushed Stainless Steel |
| Color | Brushed Stainless Steel |
| Capacity | 1.2 Cubic Ft. |
| Item Dimensions | 19 x 20.43 x 12.44 inches |
| Cost | $$$$ |
| Our Rating | 8/10 |
pros
Easy to clean
Easy user interface
For small spaces
Value for money
Cons
Door Problems
Slow Shipping
Powered with Sensor iQ technology, the Smooth Wave is designed to take the guesswork out of cooking by automatically adjusting power to precisely reheat & cook your favorite dishes and delicious treats with ease. The Smooth Wave with Power Smoothing Inverter, 15 intelligent presets, and LCD put all the power at your fingertips. Cook precisely, defrost evenly, and reheat quickly with one touch.
FAQ's About Simple Countertop Microwaves
Here are some commonly asked questions about Simple Countertop Microwaves
Can the Microwave be installed in an above-the-range cabinet?
No. Remember this blog is about Simple Countertop Microwave. So they sit on your countertop. Installing one in a cabinet is a whole different subject altogether.
Does the light come on whenever the door is open, or only while it is cooking?
Both. It comes when cooking to see your food cooking and when you open the door to get your food out.
How good is the popcorn function?
An essential question!! Nothing worse than burnt popcorn.
Conclusion
This blog post has given you some insight into why microwaves are so popular, and how the countertop microwave may be able to make things easier for you. We hope that this article will help inspire an idea or two for your own kitchen space! If there's anything else we can do to assist in making your life a little bit simpler (or more efficient), please feel free to leave us a comment below.
Each of these microwave ovens offers seniors and the elderly varying levels of ease and safety. Please choose the best Microwave for the senior in your life by evaluating their current abilities but don't forget to consider their future needs too. Usually, though, microwaves with turn knobs and dial controls will be the simplest microwaves to use.