Toilet Aids for Disabled Persons Safety is the number one issue addressed when remodeling or building an accessible bathroom. Bathroom safety for disabled bathrooms is essential for a variety of reasons. The bathroom can be one of the most challenging and dangerous rooms in a home to maneuver for those who are disabled. It should not take a lot of money to make toileting easier and safer for those confined to a wheelchair or disabled. Below are our favorite aids that won't break the bank.
Best Toilet Aids For The Disabled
---
---
Why You Should Invest in Toilet Aids for the Disabled
Toileting Aids for the Disabled make accessibility to bathrooms that have been appropriately outfitted with bathroom safety equipment, which can return independence and privacy to many physically challenged people.
What To Look For When Buying Toilet Aids For The Disabled
Everyone has different preferences on what is essential when deciding on a Toileting Aid for the Disabled. Still, I want to offer my opinion on the most critical things that Toileting aids for the disabled should have.
1. When Buying Toilet Aids For The Disabled
When buying Toileting Aids for the Disabled, look for items that attach to the toilet with the screws from the toilet seat. Some come with just a clamp in front; from my experience, the clamps don't hold.
2. Look For the Cost When Buying Toilet Aids For The Disabled
Cost is essential if you are on a budget. Buy what you can afford. But if you can spend maybe two hundred dollars, this is a great budget to ensure your toileting safety. I'll suggest a pair of toilet items in my conclusion.
3. Look For Easy Install Toilet Aids For The Disabled
When buying Toileting Aids for the disabled, look for super easy Aids that may take a couple of screws to install. That's all you need; simple is best to keep you safe.
Toilet Aids For The Disabled Product Reviews
Here are the reviews of the best Toileting Aids for the Disabled
---
1. Medline Toilet Safety Frame for Toilet
---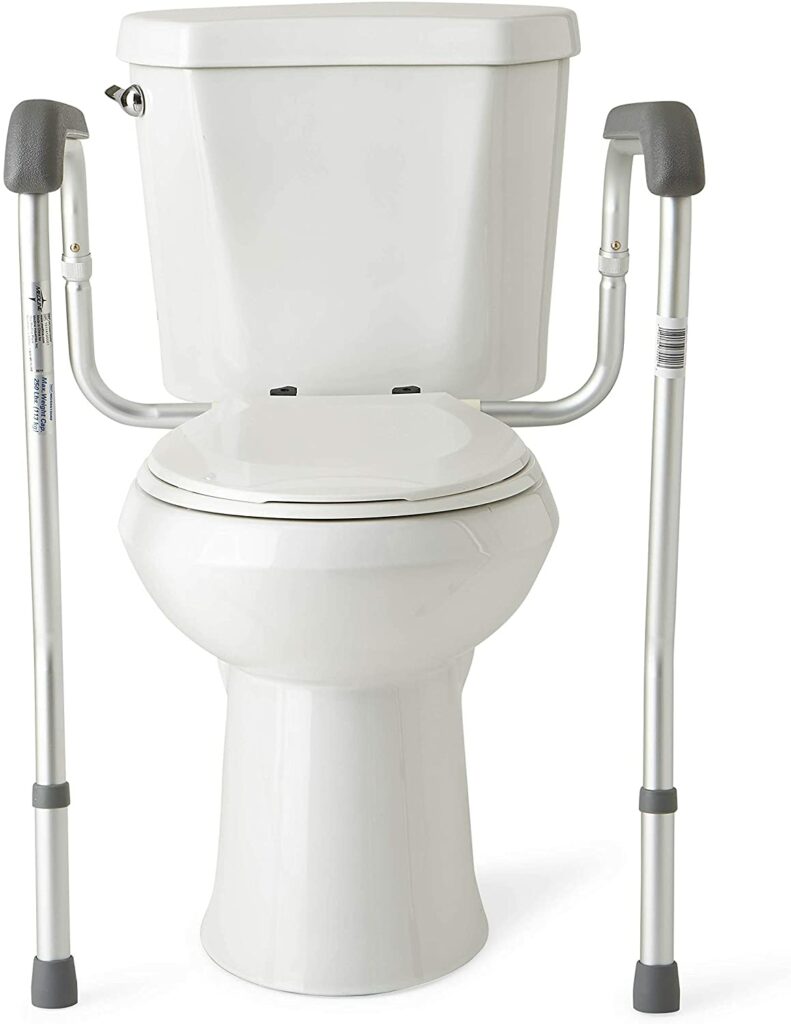 Medline Toilet Safety Frame for Toilet The handles are adjustable and rotate back to allow a wide range of comfortable and secure positions. Toilet rail with closed-cell foam armrests provides a comfortable, secure grip. Fantastic for the elderly and or people in wheelchairs and adults post-surgery. Medline Toilet Safety Frame for Toilet safety frame adjusts from 26 to 31 inches to accommodate standard or elevated toilet seats. Tool-free assembly easily cleans aluminum frame mounts securely onto a bowl with two screws. This is 1 of 2 top picks for toileting.
Pros
Easy to Assemble
Easy to Install
Durability
Cons
---
2. Essential Medical Supply Elevated Toilet Seat
---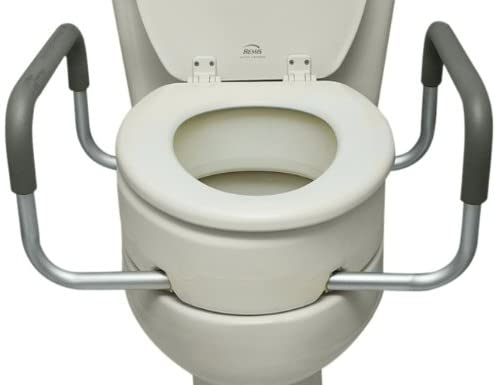 Essential Medical Supply Elevated Toilet Seat Installs under your toilet seat giving you a 3.5″ rise: Don't forsake the comfort of your toilet seat; use the easy-to-install Elevated Toilet Seat with Arms. It can safely be installed under your toilet seat for convenience and support. Arms make it easier to get on and off: The heavy-duty components will help you push off the toilet from a seated position, lower down quickly and have something to lean on when placed.
Wipes down easily: Don't worry about lingering stains; the plastic molded rail can be wiped down for easy cleaning. Hardware and instructions included for a secure fit: The riser has added long screws allowing you to install the riser and your existing seat quickly. Fits an Elongated Bowl: The toilet riser is 19.5 inches long and 14 inches wide, including any standard elongated toilet bowl. Please measure your bowl to choose the right fit for you. This is number two of my top picks.
Pros
Easy to assemble
Sturdiness
Stability
Cons
It doesn't fit well on the toilet.
---
3. Foldable Toilet Grab Bar
---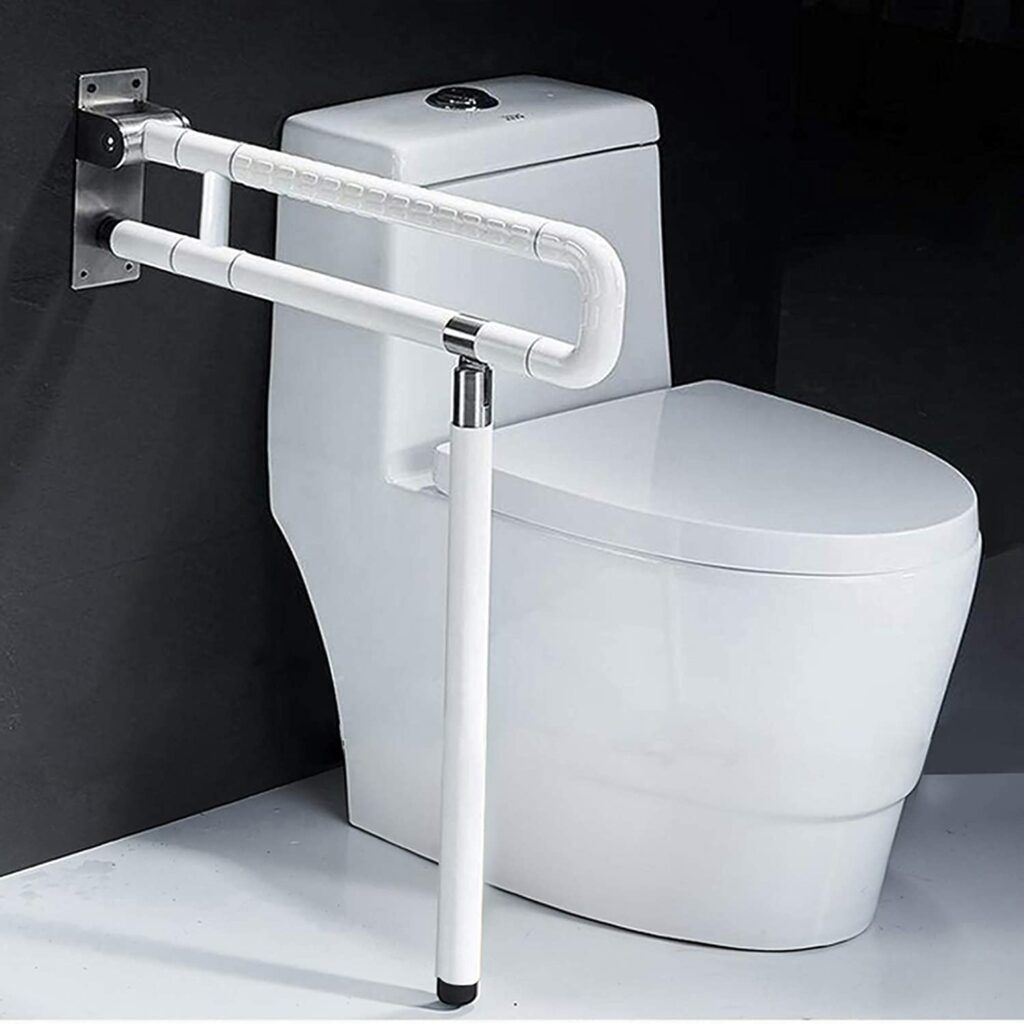 ---
These grab rails are perfect for wheelchairs, the elderly, patients, disabled individuals, and mobility-impaired people when sitting down or standing in the toilet or bathroom. They prevent people from slipping & falling, help them keep balance, and provide a smooth finish for easy daily washing. Ideal for use in the home bathroom or wherever you need a handrail.
Pros
Sturdiness
Easy to install
Folds out of the way
Cons
---
4. Stander Security Pole and Curve Grab Bar
---
The Stander Security Pole and Curve Grab Bar provide safe, secure support for sitting, standing, or transferring a loved one to a walker, wheelchair, or another mobility device. The slim design makes for an easy fit in tight spaces, ideal for bathroom safety, as a grab bar at your bedside, or beside your favorite sofa or chair as an extra handle to prevent falls. The tension-mounted Security Pole comes in 2 53-inch pieces.
It includes its wrench for assembly and installation, making it easy to move and reinstall in a different room without permanently altering your home. While attaching the Security Pole to the floor or ceiling is unnecessary, screws are included for permanent installation. The rubber pads at the top and bottom of the tension pole keep floors and ceilings damage-free. As with all our products, the Security Pole and Curve Grab Bar will seamlessly blend in with your home décor while offering the extra help you need.
Pros
Stability
Sturdiness
Easy to install
Cons
You might need to help install
---
5. Moen Bathroom Grab Bar with Textured Grip
---

The Moen 30-Inch Flip-Up Grab Bar provides a safe, steady handhold while occupying less space. This ADA grab bar supports up to 300 pounds for the bath, shower, or toilet. It flips up and out of the way, helping keep even smaller bathrooms safer and space-efficient. With durable stainless steel construction, this bath grip provides lasting performance.
Pros
Stability
Sturdiness
Easy to install
Cons
You need someone to help you install this product
---
Are Toilet Aids ADA-Compliant?
Being ADA Compliant isn't a must, and not everything is ADA compliant, so if you can't see that it is ADA compliant, look at the reviews of the people that use the product.
Conclusion
Luckily, there are a variety of types of advanced accessories. Using a selection of these accessories makes toilet use favorable for disabled people. Disabled people with different medical conditions will all have a variety of needs. Making the toilet more accessible for the disabled will vary from bathroom to bathroom. They can now experience and enjoy the perks of having a toilet designed according to their needs and requirements. Some PWD will now find comfort and help with their sanitation and hygiene while using the improved facilities. Others will still need physical encouragement to sit in the toilet and stand up when they're done using it.